Quartermaster - Tools of the Trade
The tools or props on display at the Quartermaster Storehouse include the following:


Barrels and Boxes - nearly all food supplies, including Salt Pork, Salt Beef, and Bacon were shipped and stored in barrels. Other supplies were stored in wooden boxes.
Office Furniture - desks, tables and chairs were provided in the quartermaster office, so as to provide a space for the paperwork required to run the quartermaster operation.
Quill Pen and Ink Well - for filling out forms.
Forms - the quartermaster was constantly filling out forms. Forms had to be filled out to requisition supplies, when supplies were issued, and for inventory purposes. Everything in the quartermaster storehouse had to be strictly accounted for.
Wagon - wagons delivered supplies regularly. In addition to the wagons, the quartermaster also maintained a wagon shop, a blacksmith shop, and stables for horses, mules, and oxen.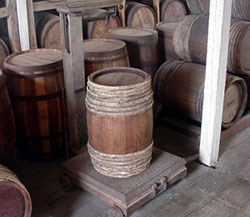 Platform Scales - for weighing supplies.
Nails - square nails made 1840s style. The quartermaster was responsible for the fort's construction and would have had a good supply of nails and other construction materials on hand.
Last updated: October 11, 2017