Quartermaster - Overview
Imagine trying to fight a war without adequate supplies. Soldiers in tattered shoes, malnourished, and equipped with outdated or faulty equipment. The safe delivering those supplies would be of utmost importance to the efficient operation of the army.
In this building are housed the barrels and boxes that contained these important supplies. One side is set up as the quartermaster's office and storeroom and the other side is setup as the commissary storeroom. As the name implies, the quartermaster was in charge of providing the army with quarters or buildings in which to live.The commissary or subsistence officer ran the other side of the building. He used it to store food rations and other supplies vital to the soldiers' survival.
The program at this station could be given in one place at the quartermaster storehouse or could involve movement in the storehouse and include a visit to the quartermaster quadrangle. A wagon will be adjacent to the storehouse.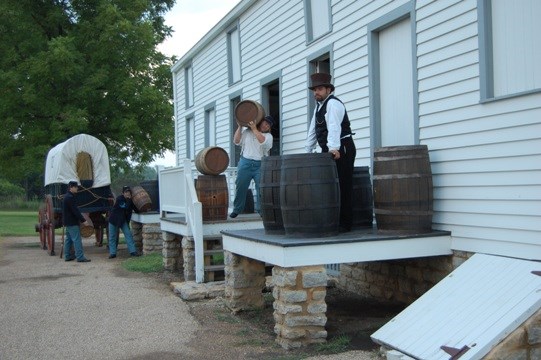 Last updated: October 11, 2017