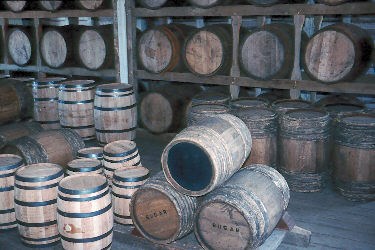 The Commissary Department was in charge of all food or subsistence supplies at a military post. At each post, the storehouses used by the Assistant Commissaries of Subsistence were provided by the Quartermaster Department, and the quality of protection varied from post to post. Many storage areas were old and dilapidated. Often supplies were stored in different buildings far from each other; roofs leaked, and rats got in to gnaw at the foodstuffs and other staples. Although aware of the problem, there was little a Commanding Officer or a Quartermaster could do to eliminate the situation, until funds were provided for new warehouses.
New storehouses were a source of pride to harried Commissaries, who could sleep at night assured their stores were secure. The Commissary at Fort Scott was fortunate, for as soon as the Quartermaster Storehouse was completed, he was assigned a large room on the first floor with a loft above and basement below. To ensure against theft, locks for the storerooms were ordered.
Army regulations provided that there would be one Assistant Commissary of Subsistence, with one clerk, at each post; but this position often was combined with that of the Assistant Quartermaster, so that one man acted as both. At Fort Scott, where the construction program was under full swing, the jobs were separate until 1846 when the positions were combined after many of the soldiers, including Captain Swords, left Fort Scott to serve in the Mexican War.