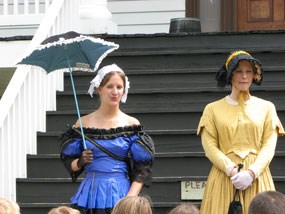 The status of officers' wives was ambiguous at best. In military law, the wives were camp followers because they were civilians, whereas, laundresses had a legal standing in military law insofar as regulations were concerned. There were no restrictions on officers marrying as there were in some European armies.
The social caste system in the old Army was very rigid. The women often divided themselves into social groups. Some of the women who inhabited officers' row were refined and cultured. Others were just simple-mannered and warmhearted army girls who knew no home but the regiment. There was always the would-be fashionable, frivolous kind as well.
There was only one social position harder to fill than that of the minister's wife, and that was the wife of the commanding officer. The tone of garrison life depended immeasurably upon its social leader, the commanding officer's wife.
The officers' wives were an intensely loyal lot of women. They were part of the regiment and proud of it. For that reason a troop commander's wife would refer to her husband's company as "our troop" and the regiment as "ours."
Although officers' wives privately expressed individual opinions in letters and diaries about various officers, publicly, regimental pride meant that all the wives were proud of all the officers and vice versa. If all the officers were not handsome, they were treated as if they were by all the women. The loyalty and sense of oneness extended beyond the regiment. When an unescorted army wife was encountered on a train, for instance, any officer would send his card by the porter. It was the commonest civility for an officer to always introduce himself to a woman who was known to be an army wife.
Eastern ladies had to become accustomed to many things on the frontier, one of which was exposure to the elements which was a hazard. They often dreaded the effect on the complexion of the "dazzling sun" and "blasting gales." The sun fades and streaks the glossiest locks and breaks and dries the silkiest mane. One lady tried covering her face with a chamois mask while traveling in an open wagon, but it so terrified her baby that she could not continue using it.
The ladies always exchanged tips on how to deal with traveling in the West. One was the use of a champagne basket as a cradle while traveling in a wagon. Above all, the women of the frontier Army post wanted to see and hear everything so long as the gossip came from other women. When she heard gossip from her husband, she refused to believe a word of it and sought verification from another woman.