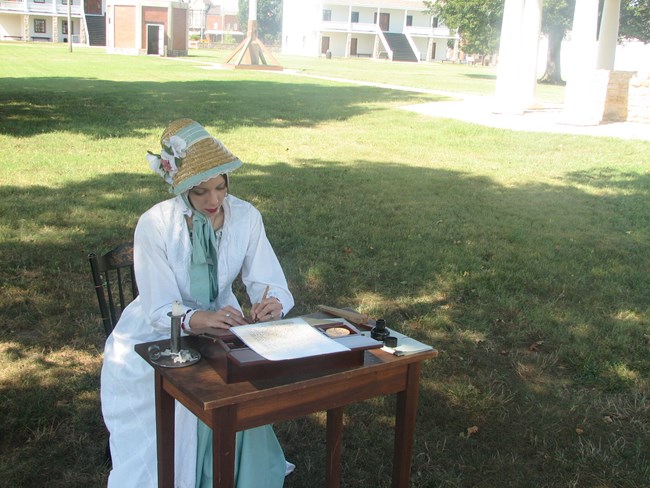 Tangible Resources: Furnishings, tables, beds, fireplaces
Intangible Concepts:
Comfort and culture - Most of the officers and their wives came from wealthy families in the East and South. Life at a frontier fort was a culture shock. Therefore they brought as many trappings of Eastern culture as they could and continued to live the lifestyle to which they were accustomed to the fullest extent possible.
Social Status - The officers and their wives lived atop the social ladder at Fort Scott. It was considered beneath them to socialize with the laundresses and enlisted men.
Entertainment, relaxation, recreation - Because of their social and economic status, officers' families had servants or slaves to do the manual household tasks which left them with adequate time to pursue leisure activities (eg. hunting, horseback riding, writing letters, flower pressing, afternoon teas, dinner parties).

Camaraderie - Officers and their wives formed friendships with each other on the frontier, some of which became life long. Dinner parties were a common occurrence where the women typically discussed social news, while the men talked politics. By the 1840s, though many women were emerging from their traditional roles.
Universal Concept:
Home - While not the environment they were accustomed to, officers and their wives did their best to make their quarters an elegant and respectful home for as long as they were stationed at Fort Scott.
Theme:
Officers and their wives created a semblance of home on the frontier, by bringing with them the comforts and culture of the East to Fort Scott.
Goals:
To describe some of the hardships that an an officer and his family faced.
To show students what housing was like at Fort Scott.
To tell students how they were able to retain their culture.
To describe their daily life.
Objectives: After participating in this program, the students will be able to:
List at least 2 hardships that an officer's family faced on the frontier.
Name 2 things that represent comfort and culture of the upper class.
List a few activities that made up their daily life.
Suggested Activities:
Take the students on a tour of the officer's quarters.
Let some of the students press flowers in a book.
Show the students the tools they used for letter writing.
Officers' Quarters Video - Education Program-wmv file-17 mb