Officers' Quarters-Overview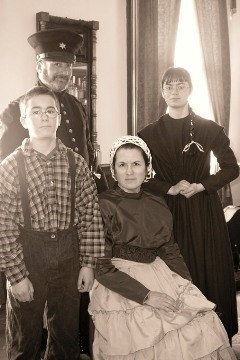 Officers inhabited the top of the social scale at Fort Scott. Most officers came from well to do families and were well connected politically and socially. Both they and their wives were accustomed to privilege.
Officers' wives and their chidren frequently accompanied them to their posts. Families adapted to the harsh, often hostile environment and the frequent separations and moves. His wife brought her civilizing influence to bear on isolated posts and to the men stationed there.
Despite having to endure low pay and near constant indebtedness, being ranked out of quarters on little or no notice and lack of fresh food and accustomed comforts, the Frontier Army wife is aptly described as "a kind of tough, weather proof, India-rubber woman. Serene and unruffled in all situations."
People in this station could choose to represent an officer's wife, but could also choose to represent an officer or a servant. The station will be held inside the furnished officers' quarters.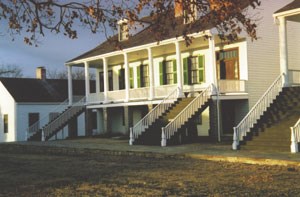 There were originally four complete sets of officers' quarters at Fort Scott. Of these, two and one-half are still standing but only half of one is furnished as an officer's quarters.
Known as Swords' Quarters or Officers' Quarters No. 1, this building is thought to have been the quarters of Captain Thomas and Mrs. Charlotte Swords and Captain Burdett and Mrs. Marianne Terrett.
When the fort was abandoned in 1853, the buildings were sold at public auction. This building became the Fort Scott or "Free State" Hotel.
Occupants of the hotel participated in the violence of the "Bleeding Kansas" years, some of which took place right outside its doors. In the 20th century, the building served as a museum-Headquarters House-for several years prior to 1978, when the site became a National Historic Site.
Today, half of the building serves as the administrative office of the National Park Service and the other half is restored to its 1840s appearance.
Last updated: July 25, 2016