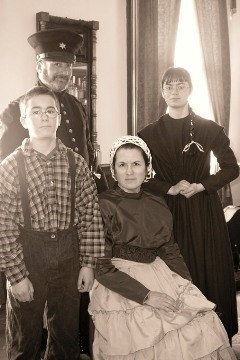 Officers inhabited the top of the social scale at Fort Scott. Most officers came from well to do families and were well connected politically and socially. Both they and their wives were accustomed to privilege.
Officers' wives and their chidren frequently accompanied them to their posts. Families adapted to the harsh, often hostile environment and the frequent separations and moves. His wife brought her civilizing influence to bear on isolated posts and to the men stationed there.
Despite having to endure low pay and near constant indebtedness, being ranked out of quarters on little or no notice and lack of fresh food and accustomed comforts, the Frontier Army wife is aptly described as "a kind of tough, weather proof, India-rubber woman. Serene and unruffled in all situations."
People in this station could choose to represent an officer's wife, but could also choose to represent an officer or a servant. The station will be held inside the furnished officers' quarters.