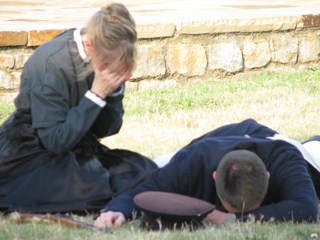 There are no regulations found in the 1847 Army General Regulations regarding the wives of officers. Married officers were allowed to bring their wives and families to live with them at the post, but no legal status or recognition was accorded them. The only women officially recognized by the army were the laundresses. If an officer were to die, than the wife and family would have to vacate the quarters that they had been living in. Most likely, they would return to their homes.
There was one incident at Fort Scott when a Captain Burdett Terrett died of an accidental shooting out on the parade ground. Captain Thomas Swords, the post quartermaster, and his wife, Charlotte, invited Mrs. Marianne Terrett to stay with them for several months even though they had no legal obligation to do so.
Nevertheless, the officers' wives did play a significant role in the fort community and through their literary works-journals and diaries-contributed much to our knowledge of army life.