Officers' Quarters-Regulations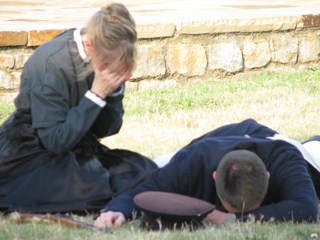 There are no regulations found in the 1847 Army General Regulations regarding the wives of officers. Married officers were allowed to bring their wives and families to live with them at the post, but no legal status or recognition was accorded them. The only women officially recognized by the army were the laundresses. If an officer were to die, than the wife and family would have to vacate the quarters that they had been living in. Most likely, they would return to their homes.
There was one incident at Fort Scott when a Captain Burdett Terrett died of an accidental shooting out on the parade ground. Captain Thomas Swords, the post quartermaster, and his wife, Charlotte, invited Mrs. Marianne Terrett to stay with them for several months even though they had no legal obligation to do so.
Nevertheless, the officers' wives did play a significant role in the fort community and through their literary works-journals and diaries-contributed much to our knowledge of army life.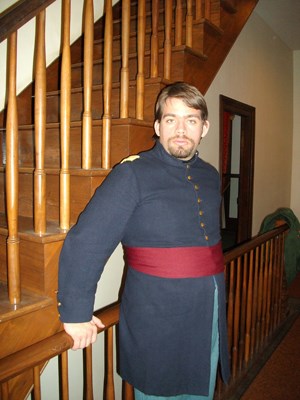 Regulations regarding the officers however, are numerous, too numerous to mention here. Regulations regarding pay, housing, duties, and comportment of officers are found throughout the book of Army Regulations. The 1847 book of Army Regulations has 507 pages of regulations.with over 1500 regulations and at least 100 pages of forms, Officers would at least be responsible for knowing those regulations regarding areas they were responsible. While a commanding officer was responsible for the operations of the entire fort, officers who served under him had responsibilities for other areas. There were officers responsible for the quartermaster department, the commissary stores, and the ordnance department. Each had its own unique set of regulations. Officers served on the council of administration, courts martial, and officers also went on recruiting duty.

The officers at Fort Scott all served at the company level. A company at that time consisted of sixty soldiers and there were ten companies in a regiment. Each company was led by a second lieutenant, a first lieutenant and a captain. The commanding officer at the fort was the captain/company commander with the most seniority. The highest ranking officer ever to serve as commanding officer at Fort Scott was a major, who served duriing the last year that the fort was active.
During the 1840s, there were never more than three companies at Fort Scott at the same time, so the most officers there would have been is nine, but they were rarely all here at the same time, because at any given time, some would be on leave, recruiting duty, or otherwise absent from the post.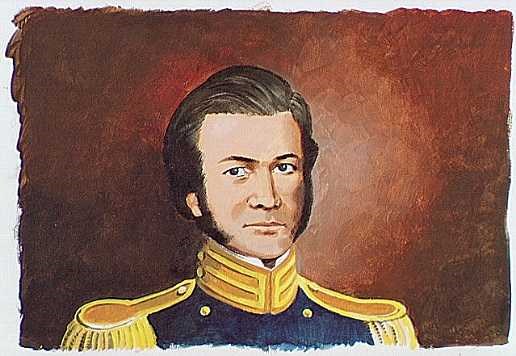 The following is a complete listing of officers that served at Fort Scott as Post Commandant or Commanding Officer. They are listed in order from lowest to highest ranking but not in actual order of service
2nd Lieutenant/1st Lieutenant Thomas Hendrickson. 1st Lieutenant Hendrickson was the only 2nd/1st Lieutenant posted at Fort Scott who served as Post Commandant on a temporary basis.
Captain Benjamin D. Moore. Captain Moore was the first Fort Scott commandant or commanding officer. The medical officer, quartermaster - in charge of supplies, assistant surgeon officer, Adjutant officer (assistant), and Officer of the Day reported directly to the Post Commandant. Responsibilities included the overall supervision of the post. Other captains included: Captain Sidney Burbank, Captain Thomas Swords, Captain Albemarle Cady, and Captain Michael Van Buren.
Brevet Major or Brevet Captain. Brevet (Bvt). Major William M. Graham, was promoted to the rank of a Brevet Major so that he outranked all other officers at the fort. A brevet promotion was temporary, not permanent. Other brevet captains/majors included: Bvt. Captain Alexander Morrow, Bvt. Major Philip R. Thompson.
Major Winslow F. Sanderson was the highest ranking officer to ever serve at Fort Scott during the active military years of 1842-1853. Major Winslow served as post commandant from November 2, 1852 to January 6, 1853.
Assistant Surgeon Alfred W. Kennedy - Dr. Kennedy was the only other officer on the post at that time and replaced Bvt. Capt. Morrow as Post Commandant. This was a unusual instance where a post surgeon commanded a frontier military post.
Last updated: July 25, 2016