Infantry Soldier-Daily Life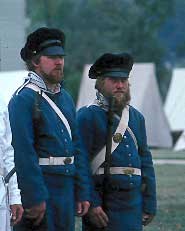 The life of the soldiers at Fort Scott was one of isolation, although occasional contact occurred with travelers on the military road, missionaries and traders on the Indian reservations, and settlers in nearby Missouri. Indians themselves also came to trade at the sutler store at Fort Scott. There was no town in the vicinity and, for the most part, social contacts were confined to the post with officers associating with fellow officers and enlisted men with their own kind. Garrison duties were generally monotonous and living conditions were not comfortable until permanent quarters were completed.
Life at Fort Scott, as at all military posts was organized under a rigid structure of time and work, guard duty, roll calls, inspections, and strict discipline. Orders came from the top down. The post commander was in charge, assisted by his staff, which included an adjutant, quartermaster, commissary of subsistence, medical officers and company officers. The privates were led in their daily routine by noncommissioned officers: sergeants and corporals.
The daily schedule varied from year to year and season to season, depending in part on the post commandant. A typical day was organized as follows, with commands for each activity being communicated by a bugle call.
The routine on Sunday was different, except for those on guard duty, for there were no fatigue or drill calls. A weekly inspection of the troops at dress parade was at 10:00 am on Sunday, after which the men were free.
Those who followed the prescribed routine, reported for duty, and performed their assignments - and this would include most of the troops - had free time for diversion and entertainment.
Life at Fort Scott was never dangerous, no one stationed there was killed in battle while at Fort Scott (although there were some that died in the Mexican War after leaving Fort Scott). The work was rigorous during the years of construction, but after the post was built little was demanded of the garrison except general maintenance. As frontier forts went, Fort Scott had relatively good food, comfortable quarters, and was located in a healthy location.
This information was taken from Fort Scott: Courage and Conflict on the Border by Leo Oliva.
Last updated: July 24, 2016