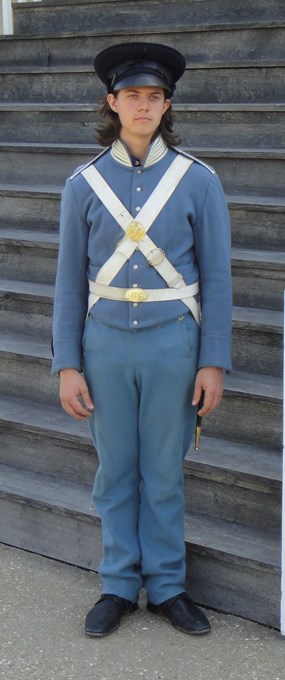 The tools in this case are the parts of the infantry soldier's uniform and his accoutrements
Brogans - made with leather-black and square toed.
Dress Jacket - used for dress parades and guard duty. Dark blue with white piping and double breasted row of buttons.
Shako - tall hat, made of wool with white cotton plume. Used as part of the dress uniform.
Neck Stock - a black band of leather worn around the neck. It helped (somewhat) to protect the soldier from saber wounds to the neck.
Fatigue Cap or Wheel Cap - made of wool with leather visor-the everyday cap of the soldier.
Fatigue Jacket - made of wool-sky blue-with white piping
Fatigue Trousers - plain, sky blue, wool-sergeants and corporals had stripes on their pants.
Cotton or Flannel Undershirt
Bayonet Sling - made of white leather. Holds the bayonet.