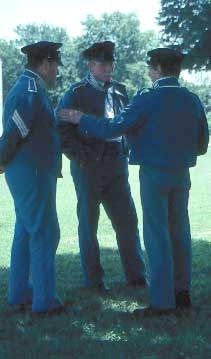 Infantry composed the bulk of all nineteenth century armies. Troops of this class sometimes bore the designation "foot." Armed predominantly with flintlock muskets, infantry consisted of two categories. Heavy infantry, also called infantry-of-the-line, were trained to fight shoulder to shoulder in rigid lines of battle. Light infantry, the second class of infantry, operated as skirmishers and fought in open order. In theory, a regiment's two flank companies - those on the right and left of the regimental line of battle- served as light infantry. In practice, however, all infantry companies in the US Army received the same training and functioned equally well in either role.
Companies and Regiments
The basic unit in the army was the company. A company was commanded by a captain, who was assisted by a first and second lieutenant, and an orderly sergeant. For practical purposes, the company was further divided into four squads, each commanded by a sergeant and a corporal. Each infantry company consisted of 42 privates, whereas each dragoon company could have up to fifty privates, although sickness, desertion, and detached duties often caused the numbers to fall below this level.
The company tended to become the basic tactical unit and the unit on which individual pride and loyalty focused. Soldiers considered their company "home" because they worked, played, ate, slept, and sometimes died within its familiar environment. Each member of a company wore a letter denoting his company's designation: A, B, C, D, E, F, G, H, I, and K. The letter J was omitted, as it was too easily confused with the letter I.
Ten companies made up a regiment, but the companies of each regiment were rarely stationed at the same post. The only time that the entire regiment got together was during wartime and for other military campaigns. Regimental field and staff consisted of a colonel, a lieutenant colonel, two majors, and an adjutant and quartermaster detailed from the line subalterns or junior officers. A sergeant major, quartermaster sergeant, and musicians composed the noncommissioned staff.
During wartime, companies, batallions, regiments, brigades and divisions provided the army with a simple framework for both logistical and combat organization. The army's building blocks - regiments and companies - could be arranged in various combinations. A military unit of more than one but less than ten companies was designated as a battalion and usually was commanded by a lieutenant colonel or a major, depending upon the unit's size. A battalion usually consisted of companies from the same regiment, but under special circumstances, this custom was ignored.
A unit larger than a regiment, called a brigade, could be produced by placing two or three regiments together under the command of a brigadier general. Two or more brigades could be placed together under the command of a major general and organized into a unit called a division. Both brigadier and major generals were aided by officers who performed the various duties of the army's staff departments. Several divisions operating in one theater, commanded by the most senior officer present, comprised an army. The US Army, however, did not retain organized brigades and divisions in peacetime and employed them only in time of war.
Ranks