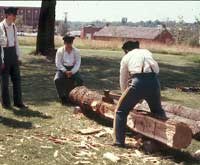 "We had lived more like pioneers than soldiers." When Augustus Meyers, a soldier in the army in the 1850s, thus summed up the first two years that his company spent on the frontier, he epitomized the most persistent problem of the peacetime army: soldier labor.
Fatigues have always been a major cause of discontent among enlisted men, especially when they felt that they were serving more as cheap labor for the army than as soldiers. They realized that many of the fatigue details were essential to the maintenance of a post, and that the isolation of widely scattered small commands necessitated the use of the only available manpower, the soldiers themselves.
A certain amount of soldier labor was unquestionably necessary and as long as it did not interfere with training one could argue that it gave useful occupation to while away the hours at desolate stations and provided exercise for the men. At the same time, so much of a soldier's duty was connected with labor of some sort, constructing roads, erecting buildings, that many men deeply resented what they felt was their exploitation as cheap labor. A common complaint was that soldiers knew better how to handle a pick and a shovel than they do a gun.
Every soldier, with the exception of the noncommissioned officers and specially assigned men, was liable for fatigue duty as stable police, kitchen detail, room orderly, and a host of other recurring work assignments. Details were announced at company formations, or the men received details from the bulletin board each evening. Short fatigues were welcomed, because the men assigned to them were usually at leisure when their tasks were completed.
The fatigue details connected with construction work were arduous and unpopular especially when a new post was being built in some remote region. Men whose previous experience qualified them as carpenters, stonemasons or other "mechanics" were paid extra duty pay. When funding was available, Captain Swords, the post quartermaster in charge of construction at Fort Scott, hired civilians to do some of the specialized work like bricklaying, masonry, and carpentry, but the soldiers performed most of the labor.