Post Construction - Overview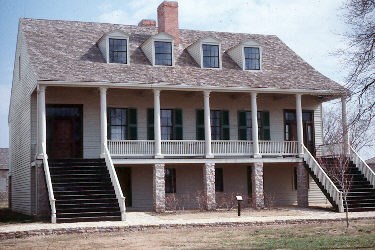 Captain Thomas Swords, the post quartermaster, was in charge of the fort's construction. Building a fort on the frontier brought a unique set of challenges, especially considering Captain Swords' goal to make this fort the, "Crack Post of the Frontier." While the area provided an ample supply of standing timber and limestone for construction, other items such as window glass, doorknobs, and paint had to be shipped long distances at great expense. Skilled labor was also a challenge, most of the work was done by soldiers using hand tools and a nearby sawmill, which was constantly breaking down. Captain Swords complained that he was entirely on his own for resources and coming up with plans to build the fort. He complained that none of the other officers could, "draw a straight line even with the assistance of a ruler."
The building most associated with this station is Officer's Quarters No. 2 or the Wilson-Goodlander Home. That is due to the fact that there is a series of exhibits in the building that tell about the fort's construction. Also several original building elements can be seen inside.
Last updated: July 30, 2016