Post Construction - Materials used in Construction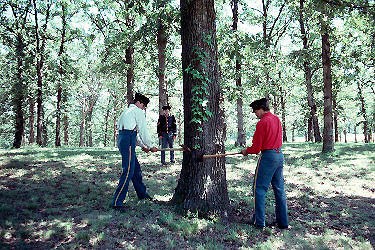 On the frontier, building materials had to be found locally or shipped great distances by steamboat and/or wagon. This area provided an ample supply of standing timber and limestone for construction of permanent buildings at Fort Scott
Not all supplies and materials for Fort Scott buildings were produced by the Army. The Post Quartermaster purchased thousands of bricks, wooden shingles for roofs, and hand split lath (narrow strips of wood approximately 1 inch in width and random lengths) to be used to support the plaster on the interior walls and ceilings. These items were purchased from farmers and settlers in nearby Missouri because it was cheaper and quicker than having them made by the soldiers.
Items like window glass, window frames, window weights, paint, doorknobs, hinges, nails and wood screws were purchased by the quartermaster from manufacturing firms and contractors in eastern cities such as Philadelphia, New York, and Boston. These items were shipped overland and by steamboat to St. Louis and Fort Leavenworth. From Fort Leavenworth, they were transported down the military road in civilian or army wagons to Fort Scott.
To facilitate construction, a US Army sawmill was constructed in 1842 on a creek approximately two miles west of the fort. It was operated by the soldiers 24 hours a day when there was a sufficient amount of water for continuous operation. Candles, candle lanterns, and slush lamps were used to provide light when the mill was operating after dark. A working detachment of soldiers lived and worked at the sawmill. They lived in log huts and fenced in various yards to store logs and livestock in. Oxen and mules were used to drag the logs from the woods to the sawmill.
Army records show that the mill was plagued by many problems: spring floods, summer droughts, and mechanical breakdowns, with the nearest repair parts in St. Louis. On April 2, 1844, Capt. Thomas Swords reported that, "Our saw mill having been idle during the last month in consequence of the breaking of the shaft, the progress of the works has been….Very much retarded…" Once, a fire destroyed 6000 board feet of oak flooring. Nonetheless, the mill produced enough lumber to support year-round construction.
A special structure called a kiln was used near the sawmill to rapidly dry the lumber so that it could be used quickly in the construction of the buildings. The kiln was heated by a wood fire which had to be constantly maintained by different shifts of soldiers until the wood was properly dried. Green or wet lumber with a high moisture content could not be used in buildings because it would shrink as it dried and the building would become unstable.
Last updated: July 30, 2016