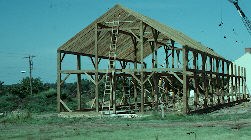 All of the existing wooden buildings at Fort Scott were constructed using the timber and frame method of construction. This included the use of very large timbers for the frame of the building which was constructed on a shallow stone foundation. The framing timbers were spliced together with large wooden pegs often called tree nails or were joined together by using mortises and tenons which were fastened together with wooden pegs.
The building walls and floors of each structure were supported by large hand hewed timbers which were made from large walnut or oak trees. These timbers were fashioned or made manually by using a broad ax and shaping adze. All of the exterior walnut clapboard siding, doors, flooring, small framing timbers and interior trimwork (doors & window casings) were produced on a water powered sawmill that was located approximately 2 miles from the fort on Mill Creek.
The following description is one way that a large multistory timber and frame building was constructed.
· Step 1: Foundation - A shallow subsurface trench was excavated which formed the outside of the building and in which a stone foundation was constructed.
· Step 2: Exterior Walls - The exterior framing timbers of a multistory building were assembled on the ground and then raised into position on top of the foundation.
· Step 3 - The large interior cross/framing timbers were raised and fastened to the exterior framing timbers to stabilize the entire skeleton of the building.
· Step 4 - The rafters (beams to support the roof), roofing lath and roof are installed.
· Step 5 - Exterior and interior wall bracing (studs, braces, etc.) installed.