Post Construction - Historical Background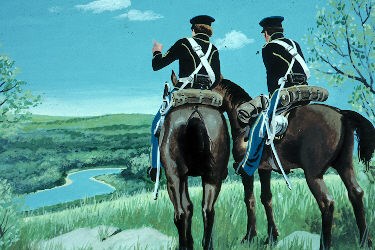 The buildings which comprised Fort Scott were constructed between 1842 and 1848. The fort was conceived, designed, and constructed as a permanent military installation which was part of the Permanent Indian Frontier.
The three major factors which contributed to the selection of the physical site of the fort were:
The site was located on a limestone bluff and prairie plateau which provided good drainage from excessive rainwater and it was above the flood plain of the Marmaton River and Buck Run Creek.

It was surrounded by three essential natural resources which provided the necessary building materials. They were wood (Oak, Walnut, Ash and Hickory Trees) for the large buildings, stone (flagstone and limestone) for the building foundations, fireplaces and small buildings.

Water for human & animal consumption and as an ingredient for masonry mortar, plaster, and to provide power to run a sawmill.
The information for this page and all subsequent pages on the construction site was compiled by Site Historian Arnold Schofield.
Last updated: July 30, 2016