Children's Activities - Overview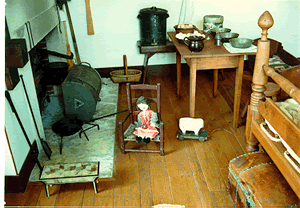 Children playing isn't exactly the image one thinks of when picturing a frontier fort, and a frontier fort was not the safest place for children. While no Indian attacks ever took place at Fort Scott, children were still prone to disease, accidents, and the elements.
While not numerous, children were nevertheless an important part of the community at Fort Scott. While at Fort Scott, several officers' wives, the sutler's wife, and laundresses gave birth. As with any children, they needed to be cared for. Work, education, and play were all a part of childrens' lives growing up on the frontier. These pages will explore various activities they were engaged in at Fort Scott.
Children of officers would have stayed in the third floor bedrooms, while children of enlisted men and laundresses would have stayed either in tents or in the noncommissioned officers family quarters. This is the room where a sergeant or corporal and his wife would have lived with their children. The quarters were not as elaborate as an officer's quarters but at least the family had some privacy. Some children's toys are on display in this room.
The station, however, will be presented outdoors as this room is fairly small and has several museum objects on display.
Last updated: July 30, 2016