Children's Activities - Historical Background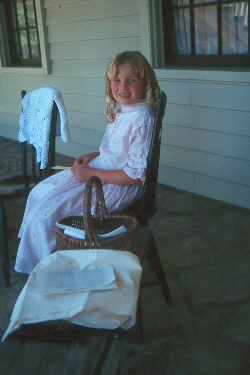 Army children seem to have thrived by virtue of the isolation of frontier posts. They rarely suffered from the ailments common to children of towns and cities but rather became hardy youths and maidens, sturdy and independent. Unfortunately, one byproduct of their prolonged contact with enlisted men was a penchant for profanity.
School life, then as now, occupied a major portion of the child's day. At Fort Atkinson, "the children of the soldiers were educated at no expense to their parents. However, the officers, because of higher pay, were required to pay the sum of 50 cents a month to the Council of Administration for each child attending the Post School. These funds were used to buy books, paper, ink, quill pens, and slates for the Post School, or to help pay a minuscule salary to the soldier-teacher.
Educational achievement was normally limited to the traditional 3 R's. Discipline was severe and it may be assumed that children learned a early fear of cane switches.
Outside of school, children turned, of course, to various amusements. Popular games of the period include marbles, horseshoes, tag, hide-and-seek, hoop rolling, jump rope, and tipcat. This last is played with a stick bat and a double-pointed wooden peg. A little imagination (just think back a few years) should suggest additional possibilities tailored to the fort's setting (fishing, berry picking, etc.).
Despite the availability of such amusements, children, especially the laundress and NCO children, were often forced to curtail their enjoyment of them. There was work to be done and each member of the family had a part to play. Children typically helped with chores such as:
Stuffing mattresses with hay or straw

Chopping and hauling wood

Quilting

Shelling corn or other vegetables

Tending to other siblings

Fetching water

Churning butter
From Living History Interpretation of Women's Roles at Fort Snelling
Last updated: July 30, 2016