Children's Activities - Daily Life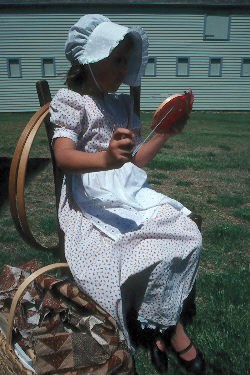 Early settler children had lives that were very different from those of boys and girls today. Difficult work was a part of every day. In order to have enough food and clothing the entire family had to work hard. Boys and girls began to do chores as soon as they were able to walk and talk. Kids were expected to work. They didn't do the same things adults did, but they could weed, garden, tend cows, and ride horses.
Children's days would begin at first light. They would go to the well, lay a fire, bring in wood, and boil water. The children would then milk the cows and collect eggs. Without electricity or running water, everyday chores took longer. Doing the laundry might take an entire day. And they'd never hear their parents demand that they take a bath every night! Bathing didn't happen very often; putting together a bath was a big undertaking. Parents did strive to "maintain a sense of decorum," though. Children learned to cook, bake, make soap and candles, sew and spin.
Parents loved their children, but they were very strict. They had to be; a family needed cooperation and teamwork to get everything done. At Fort Scott, this would have held true for the families of laundresses and enlisted men, but not necessarily for the officers. The officers had servants so the children would have had more time for leisure pursuits.
Officers' children were often the center of attention. The presence of the children helped to cheer up what was often a gloomy existence and helped in some cases to stave off depression.
Children participated in the several amusements available at the frontier forts. These included fishing, berry picking, and horseback riding. They also enjoyed the theatricals and music performed by the soldiers.
Some of the young boys liked playing soldier but this had its drawbacks because often playing soldier meant playing with black powder which caused injuries when mishandled.
Primitive conditions, however, often took their toll. Many children died at frontier forts due to accident, diseases, and unhealthy environments.
The overall experience of children at forts from their point of view was a positive one and apparently they did not experience in the doldrums and depression experienced by their elders.
Part of the above text was taken from an article which appeared on the Christian Science Monitor's website. The article, dated February 24, 1998, is titled What Kids do on the Western Frontier by Kristina Lanier. Used by permission, Copyright © 1998 The Christian Science Monitor. All rights reserved. Online at csmonitor.com
For more information on this topic read page 171 of The Old Army: A Portrait of the American Army in Peacetime, 1784-1898 by Edward M. Coffman, copyright 1988 by Oxford University Press, Inc.
Last updated: July 30, 2016