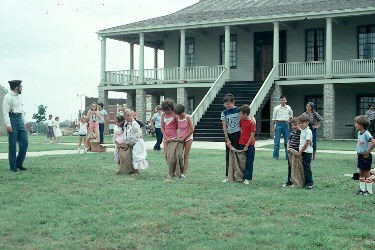 In the 1840s, there were no television sets, stereos, or video games, but there were always enough people around for playing games. Families were large; parents and several children, as well as an aunt, uncle, or a grandparent or two, lived under one roof. Children also played games at school, in the village, and at work parties.
Playing in the parlor
People who owned large homes often had a parlor. A parlor was a special room that was used for entertaining guests. When families invited neighbors to visit, they played games in their "best room." These games were known as parlor games. Parlor games often involved several people. Charades and Blind Man's Buff were popular parlor games. Guessing games, word games, and board games were also played in the parlor.