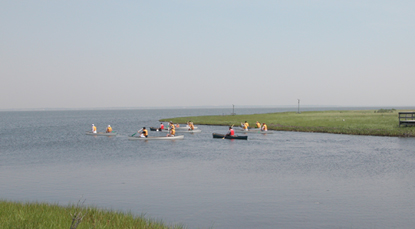 News Release Date:
July 19, 2012
Contact: Paula Valentine, 631-687-4759
The flurry of getting to the beach for the Fourth of July weekend may now be a fond memory for many people, but there is still much more to see and do on Fire Island and at the William Floyd Estate before the summer slips away. Pick up a copy of Fire Island National Seashore's 2012 Summer Program Guide or check for special programs posted on the Calendar of Special Events and What's Happening This Week pages. You can also follow program updates at Twitter/FireIslandNPS.
A variety of weekend programs for children and adults are offered at the Wilderness Visitor Center, Watch Hill, and Sailors Haven. "Our Junior Ranger: Path to Discovery programs feature a different topic each week, each related to the natural wonders children may find as they explore the Seashore," said Chief of Interpretation Kathy Krause. The ranger-guided Exploring the Salt Marsh canoe tour at Watch Hill is available every Thursday through Sunday. "This is a fantastic way to learn about the plants and animals that live in one of our most productive habitats," said Krause, "and it's a great way to get a little extra fresh air and exercise, and enjoy the outdoors." These programs are free, and the canoes, paddles and properly-fitted life jackets are all provided.
You can get to Watch Hill by taking the passenger ferry from the Patchogue-Watch Hill Ferry Terminal at 150 West Avenue in Patchogue. Concessioner Matt Sherman of the Davis Park Ferry Company, which operates the ferry to Watch Hill, announced that they are offering special discount fares on Tuesdays (family day), Wednesdays (ladies day) and Thursday (teens) through August.
While at the Patchogue-Watch Hill Ferry Terminal, stop by the Friends of Fire Island National Seashore's "Essence of Fire Island" Photography Exhibition, on display through August 5. An artist reception with the Nature & Wildlife Photographers of Long Island will be held on Sunday, July 22, from 1:00 to 5:00 p.m. All artwork is for sale as a fundraiser for the FFINS, which provides support for a variety of Seashore programs.
One favorite destination on Fire Island is Sailors Haven and the Sunken Forest. Guided tours of the Sunken Forest are offered daily at 11:00 a.m., with a second tour on Saturday and Sunday at 2:30 p.m. "Gee, it's cool in here," is perhaps the most common comment rangers hear whenever someone makes their first excursion into this forest on a hot summer day. On a guided tour, people will learn just how "cool" this special place really is. Fire Island's Sunken Forest-with a rare canopy of American holly, sassafras and serviceberry trees-is one of only two maritime holly forests on the East Coast! You can get to the Sunken Forest by taking the Sayville Ferry Service passenger ferry from Sayville to Sailors Haven.
The Fire Island Lighthouse is open year-round. Summer hours for the Keepers Quarters Museum are 9:30 a.m. - 6:00 p.m. daily, and every Saturday in July the building is open until 8:00 p.m. From 10:00 a.m. until 1 hour before closing, the Fire Island Lighthouse Preservation Society (FILPS) offers tower tours at $7/adult and $4/child, who must be over 42" tall to climb the 182 stairs to the top of the 1858 Lighthouse. The view is spectacular! The Fire Island Light's original first order Fresnel lens is on display in the new Fresnel Lens Building, adjacent to the lighthouse terrace. "There are only a handful of these rare artifacts left," said FILPS administrator Dave Griese of the 16-foot high beehive-shaped mass of brass and glass prisms, making this another "must see" for a visit to Fire Island. Special programs are offered inside the Fresnel Lens Building, such as the "Birds of Fire Island: Our Feathered Friends" program this Saturday, July 21, at 6:30 p.m.
The Fire Island Lighthouse is one of two Fire Island destination you can drive to, but be aware: There is no paved road connecting each end of Fire Island. (Only vehicles with permits are allowed to operate on Fire Island between the Fire Island Lighthouse and Smith Point County Park.) Parking for the Fire Island Lighthouse is at Robert Moses State Park Field #5 (fee charged), and a 3/4-mile boardwalk connects the parking lot to the Lighthouse facilities.
The Fire Island Wilderness Visitor Center is the other destination accessible by car, with parking at Smith Point County Park (fee charged). A ranger-guided programs is offered every Saturday at 10:30 a.m. The Junior Ranger: Path to Discovery program will be offered every other Saturday this summer (July 21, August 4 & 18, September 1) at 2:00 p.m. The Lil' Ranger: Fox Kit Adventures program will be held every other Sunday (July 29, August 12 & 26) at 2:00 p.m.
The William Floyd Estate in Mastic Beach is open for tours of the Old Mastic House on Friday, Saturday and Sunday through November 12, 2012. The Old Mastic House was the birthplace and home of William Floyd (1734-1821), and the estate expanded as the Floyd family prospered over the next 250 years. Who was William Floyd? Join a tour or special program to learn how, as one of New York's four signers of the Declaration of Independence, this prominent political leader and wealthy plantation owner risked life, property and reputation as a patriot during the War for Independence.
Pick up or download a copy of Fire Island National Seashore's 2012 Summer Program Guide for a handy reference. Check What's Happening This Week and follow program updates at Twitter/FireIslandNPS.
For more information, contact the Office of Interpretation at 631-687-4780, the William Floyd Estate at 631-399-2030, or the Fire Island Lighthouse Preservation Society at 631-661-4876.