Sailors Haven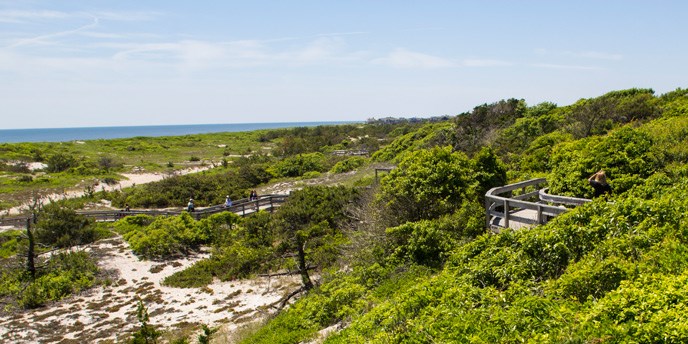 A Centuries-Old Forest
Sailors Haven is home to one of the best known areas of Fire Island National Seashore—the Sunken Forest. It is located near the center of the island, across the Great South Bay from Sayville, New York. It is accessible by Sayville Ferry, private boat, and foot only.

The well-developed secondary dune system and rare maritime holly forest are among the natural features at this site that make it a must-see.
Things To Do
Join a ranger-guided tour of the globally-rare Sunken Forest, seine in the Great South Bay, or comb the beach for sea shells. Explore the touch table and fish tanks in the visitor center or grab a snack or souvenir at the snack bar or gift shop.
In addition to a one and a half mile long boardwalk trail through the Sunken Forest, Sailors Haven also offers a visitor center; snack bar; gift shop; picnic tables and grills; lifeguarded beach in summer; a 45-slip public marina with electricity, water and a free boat pump-out station; and restrooms and showers.
Sail to Sailors Haven
The Sailors Haven Marina is a 48-slip marina with 45 slips available to the public. The marina can accommodate boats with beams between 10 and18 feet with a five foot draft. The majority of slips are between 10 and 14 feet wide. All slips have electric and water (extra fee charged).

In 2018, rates range between $2 and $3 across the shoulder and busy seasons and reservations are available through LoveFins.com. There is a 14-day limit for each stay. For the most up-to-date information on rates and reservations, please visit LoveFins.com.
Facilities at Sailors Haven (Open Seasonally)
Sailors Haven Ferry
Phone: 631-589-8980

Please see schedule from Sayville Ferry Service.

Sailors Haven Visitor Center - Open Seasonally
Phone: 631-597-6183

Stop by this National Park Service visitor center to learn more about Fire Island, the globally-rare Sunken Forest, and upcoming ranger-guided interpretive programs.
Sailors Haven Marina, Gift Shop, and Snack Bar - Open Seasonally
Phone: 631-597-6014

Please check LoveFins.com for 2018 rates and reservations.
Know Before You Go: Pets

Pets are not permitted on the ocean beach at Sailors Haven from March 15 through Labor Day. You may bring your dog, but remember that this may restrict your options for enjoyment of Sailors Haven. Pets must always be leashed and under control, and you are required to properly dispose of your pet's excrement.


Last updated: May 17, 2018