Patchogue-Watch Hill Ferry Terminal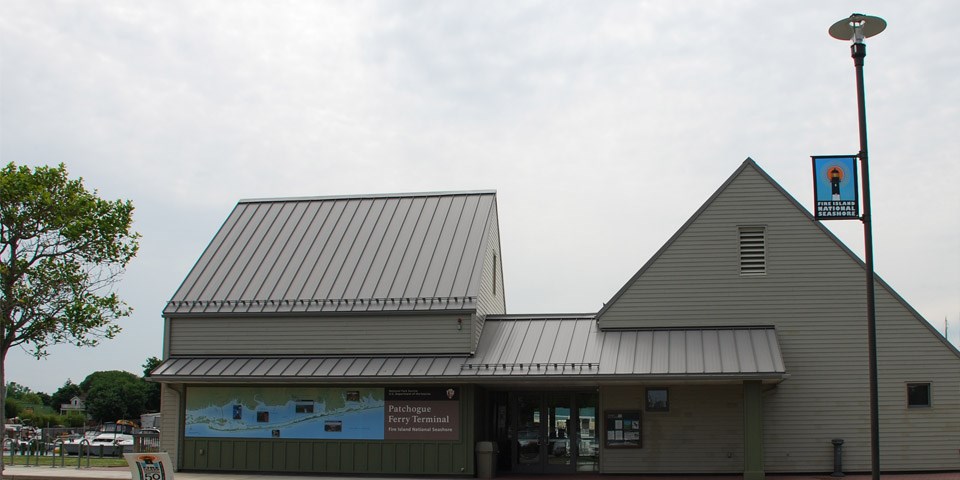 Notice to Visitors: Watch Hill Marina Closure
A project to replace electrical and lighting systems, and adjacent bulkhead and boardwalk at the Watch Hill Marina will begin in September, 2016. The Watch Hill Marina will be closed to ferry service and private boats through late summer 2017.
We appreciate your patience while the marina is under construction. Together with the Federal Highways Administration, the National Park Service is replacing marina components damaged by Hurricane Sandy. This project will make the marina more resilient to future storms.
Please check the Watch Hill page for project updates.
Located at the head of the Patchogue River, the Patchogue-Watch Hill Ferry Terminal is a key component of the transportation complex for Fire Island National Seashore. From this terminal, seasonal passenger ferry service is provided to Watch Hill and, by special arrangement, to Barrett Beach.
Look for special exhibits and presentations scheduled to take place at this facility in the calendar of events.
The Patchogue-Watch Hill Ferry Terminal is located at 150 West Avenue, Patchogue NY 11772.
Fire Island National Seashore park headquarters is located nearby in Patchogue, at 120 Laurel Street.
Directions

Watch Hill Terminal Site is located at 150 West Avenue in Patchogue, New York, 11772.
From the Long Island Expressway (LIE or I-495), take Exit 61 S onto County Road 19 (Patchogue-Holbrook Road).
From Sunrise Highway (Route 27), take Exit 52 South onto County Road 19 (Patchogue-Holbrook Road/Waverly Avenue).
About 1 mile from Rt. 27, bear left. Cross Main Street, go over the railroad tracks, and cross Division Street. Pass the bowling alley. Ferry terminal parking lot is on your right.
Last updated: June 9, 2017