Sunken Forest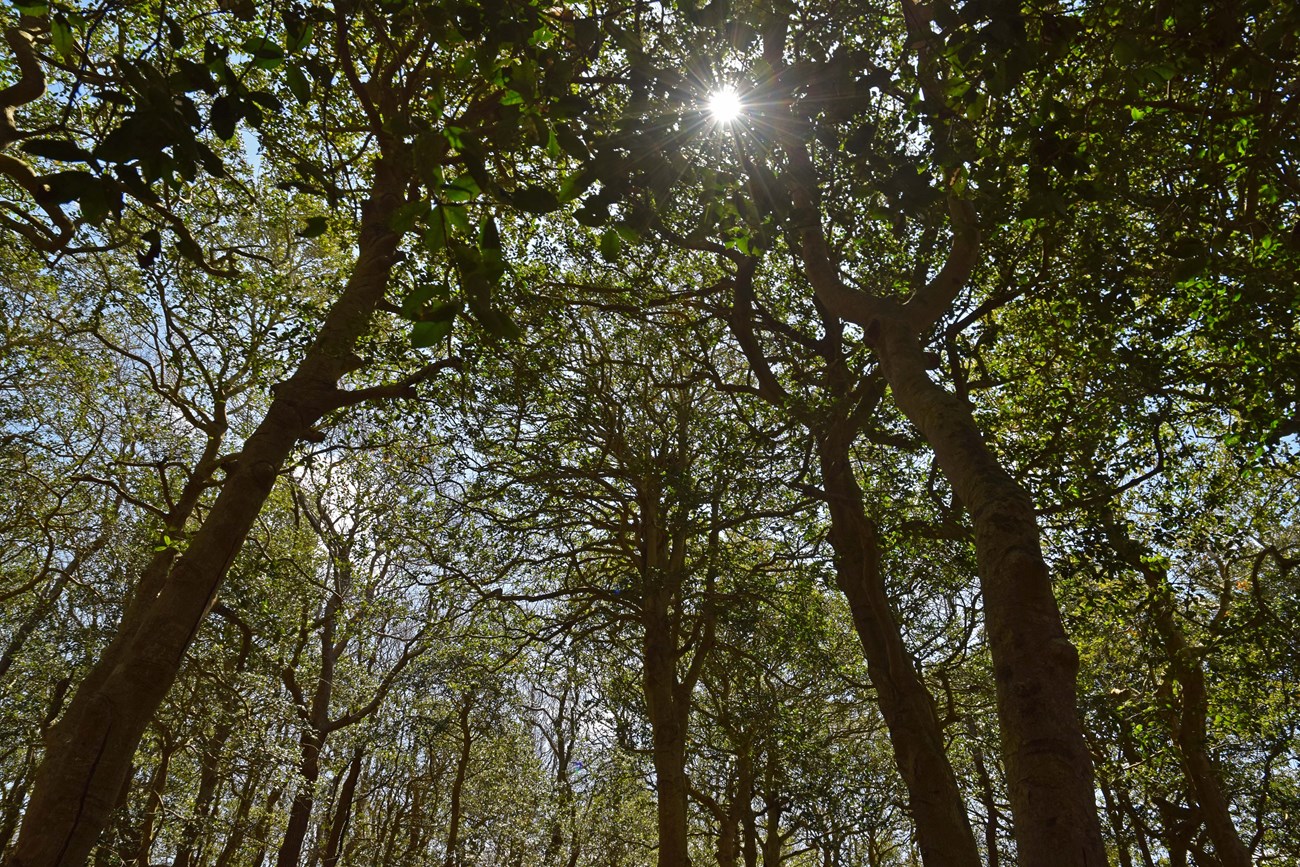 Fire Island's Sunken Forest is a rare ecological community. This type of maritime holly forest is found behind well-established sand dunes along the Atlantic coast from New Jersey to Massachusetts. According to the New York Natural Heritage Program, the Sunken Forest was ranked as "globally rare," meaning there are few remaining occurrences of this assemblage of plants throughout the world.
Today you can easily visit and explore this rare habitat from May to October, when ferries run from Sayville on Long Island to Sailors Haven. Throughout the year you may stroll along the boardwalk, although facilities (restrooms) and other services are not available when ferry service is not operating.
How did the Sunken Forest get its name?

The Sunken Forest is dominated by American holly (Ilex opaca), some of which are estimated to be up to 300 years old. Other trees in this forest canopy include the sassafras (Sassafras albidum), shadbush or juneberry (Amelanchier canadensis), and other hardwoods. Oaks and black cherry also grow one in the Sunken Forest. However, none of these trees will grow taller than the unique double dune system which protects them. The forest is "sunken" behind the dunes.
How old is the Sunken Forest?

The process of succession leading to a climax forest stage can take thousands of years, but most likely took around 300 years in the Sunken Forest.

Sometime between 200 and 300 years ago the site of the Sunken Forest was an area of bare, windblown sand. But, it was soon invaded by the seeds of pioneering dune plants, like beach grass.

Woolly beachheather and seaside goldenrod were probably the next plants to grow in this area. These plants not only pioneered, but helped stabilize the habitat by trapping blowing sand.

There are virtually no nutrients to be derived from windblown sand, so pioneer species got their nourishment from the air, wind-borne minerals from the sea and from land.

As plant communities became established, they added organic material to the sand, and gradually conditions were created that enabled increasingly diverse plant associations to grow. Early pioneer species then disappeared or declined as species such as post oak, black cherry, and highbush blueberry took hold.

Over time the black cherry-oak-blueberry-red cedar-pitch pine community was almost entirely replaced by the holly-sassafras-juneberry maritime forest we see today. A core taken from one American holly in the mid-1970s indicated that it began to grow about 1804 -- the year Lewis and Clark started their western expedition!
The Sunken Forest Preserve

First protected from development in the early 1950s by a concerned group of private citizens, a roughly 50-acre tract of beach, dunes and ancient holly forest just east of Point O'Woods was gradually cobbled together through a fundraising campaign spearheaded in 1952 by the Wildlife Preserves, Inc, and The Nature Conservancy. The Sunken Forest Sanctuary was officially dedicated as the Sunken Forest Preserve in 1960. The entrance plaque can still be seen along the western trail entrance.

In May 1966, the Sunken Forest Preserve, Inc. donated the property to the recently established (1964) Fire Island National Seashore, under the condition that the property shall always be maintained in its natural state and operated as a sanctuary, and that no public road or highway shall be built through it.
Explore the Sunken Forest
Last updated: August 25, 2021