Accessibility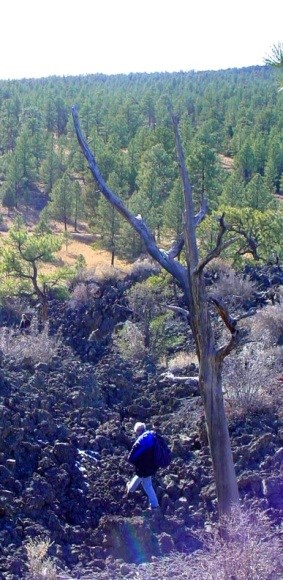 Amenities within El Malpais
Scenic driving outside of Grants will take visitors to good views of many features in the park. Different amenities are available at different sites, which may impact how you plan to enjoy your visit.
Site

Available Amenities

Gravel parking lot
Pit toilet
Wooden ramps to viewing area north of interpretive sign. Ramp may be narrow for some power chair models, but nearby areas may be accessible.

Acoma-Zuni Trail
(Highway 117 Trailhead)

Gravel parking lot
No pit toilet/restroom available
Trail access may have corners too narrow for most wheelchairs and powerchair models

Gravel parking lot
Pit toilet available
Picnic tables
Trail is not accessible to wheelchairs or power chairs due to extremely rough terrain.

Zuni-Acoma Trail
(Highway 53 Trailhead)

Paved parking area
Pit toilet available
Paved trail--very short, cracks present in asphalt

Gravel parking area
Pit toilet available
Picnic area, shaded
Gravel trail may be accessible with assistance.

The entrance to Junction Cave can be viewed without going in.
A narrow, very rough area exists at Double Sinks.
Steep inclines are present on both sides of the loop trail.

None of the caves are currently wheelchair accessible.
Fully Accessible Facilities in Grants
The El Malpais Visitor Center in Grants has the following universal design features:
Designated wheelchair accessible parking spaces
Ramped sidewalks and walkways
Accessible picnic tables
Automatic doors
Accessible restrooms
Movie captioning in English, with assistive listening eqipment also available
Braille park maps available at the Visitor Center desk
Last updated: January 9, 2021