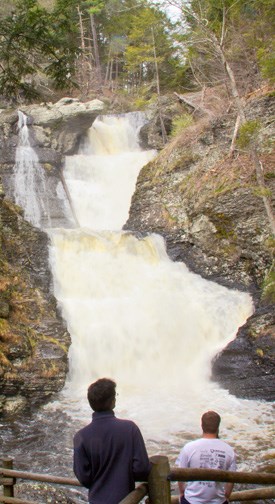 Length: 0.3 mile, one-way
Difficulty: Easy-moderate
Elevation Change: 178 feet
Trailhead Location: directions to Raymondskill Road trailhead
Restrictions: Swimming and wading are not permitted within 50 feet upstream of waterfalls or in the waterfalls themselves
The three-tiered Raymondskill Falls is the tallest waterfall in Pennsylvania. If you add the drops from each tier together, the waterfall is only a few feet shorter than Niagara Falls. While the trail is short, it is fairly step and uneven. The upper viewing area provides a view of the upper pool and the top of one of the drops. The lower viewing area provides a great photo opportunity of the falls. A spur off the main trails provides a quarter-mile, one-way walk to Raymondskill Creek (this trail does not lead to the bottom of the falls).
Other Information: restroom located at trailhead
Other trails in the Cliff Park area: