Sturgis Motorcycle Rally
The 2020 Sturgis Motorcycle Rally will take place from Friday, August 7 to Sunday, August 16.
The Ride to the Tower will happen on Wednesday, August 12.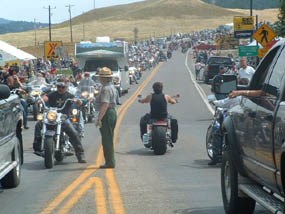 Preparing for the Rally
The Sturgis Motorcycle Rally typically occurs during the first full week of August every year. Hundreds of thousands of motorcyclists gather in the Black Hills region, and often visit particular sites on certain days. The "Ride to Devils Tower" typically occurs on the Wednesday of that week. Visitors can expect extremely long lines and waits to enter the park.
Devils Tower National Monument prepares for the visitation of thousands of motorcycles during this week. Volunteer groups work with park staff to organize parking. The park association sponsors a shuttle service from the long vehicle parking and picnic areas up to the visitor center. Visitors are encouraged to use the shuttle service, as parking near the visitor center will be very limited. Visitors with long vehicles are required to use the shuttle on Tuesday, Wednesday and Thursday.
Generally, the increased traffic and visitation from Rally Week are unavoidable. However, visiting the park before 8 am or after 5 pm will offer you a much less congested experience.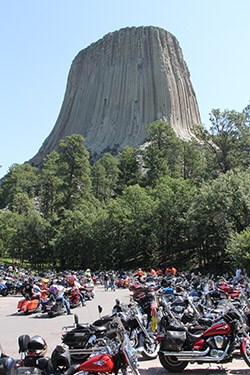 Visitor Shuttle
On Tuesday through Thursday of Rally Week, a shuttle will take visitors from the picnic area to the visitor center and back. The shuttle usually takes 40-45 minutes to complete its circuit. Using the shuttle service is the easiest way to find parking and enjoy Devils Tower National Monument.
Parking During Rally
Parking around the visitor center during Rally Week is highly regulated. The entire paved lot will generally be reserved for motorcycles and three-wheeled vehicles. Four-wheeled vehicles will be directed to the gravel lot as they approach the visitor center. Volunteer and park staff will be present around the entrance station and parking areas. Vehicles with trailers or towed vehicles will be required to drop their trailers in our long vehicle parking area (near the picnic area). Long vehicles (e.g. RVs) are required to park in this area and use the shuttle service.
Visitors can expect crowding and parking difficulties throughout the week, with the highest volume being from Tuesday through Thursday, peaking on the Wednesday of Rally Week. Please exercise patience and caution while travelling throughout the Black Hills region during this week.
Last updated: March 23, 2020