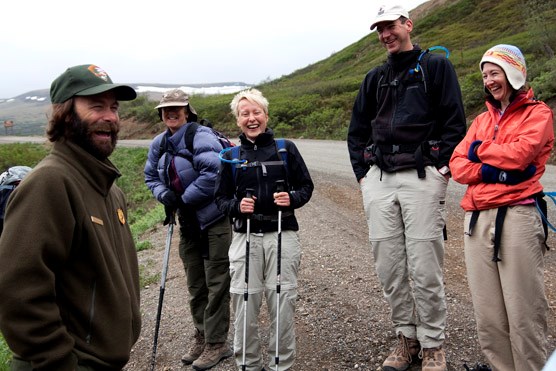 Discovery Hikes are a great way for the
adventurous
and
well-prepared
to explore the heart of Denali.
These ranger-led hikes travel everywhere, so expect uneven terrain, small stream crossings, close encounters with dense vegetation and unpredictable weather. Along the way, you can engage the park with all your senses and build memories of this special kind of "walk in the park."
How to Sign Up for a Hike
"Disco" hikes are offered daily during the summer, and are limited to 11 people. This limit exists because discovery hikes take place in the wilderness, where there are no trails - the limited number helps reduce human impacts on vegetation and facilitates a small-group experience.
You may sign up for a hike one to two days in advance, and you can only sign up in person at the Denali Visitor Center. There are
no exceptions
to this rule. For safety concerns, rangers may turn away unprepared hikers.
Please read our preparation guide, below, for more details on how to ready yourself for this special experience.
Where You'll Go
All disco hikes begin with a bus ride into the park, originating from the Wilderness Access Center. Plan on a bus ride lasting anywhere from one to four hours, to hike for three to five hours, and then a similar-length bus ride back to the park entrance. The disco bus leaves at 8 am every morning.
These ranger-led adventures vary from moderate (elevation gain less than 1,000 feet) to strenuous (elevation gain more than 1,000 feet, or will involve large river crossings). They may start from just about anywhere on the Park Road, which is why the bus ride has such a wide range of duration (i.e., the closer to the park entrance your hike begins, the shorter your bus ride will be).