Scenic Train Ride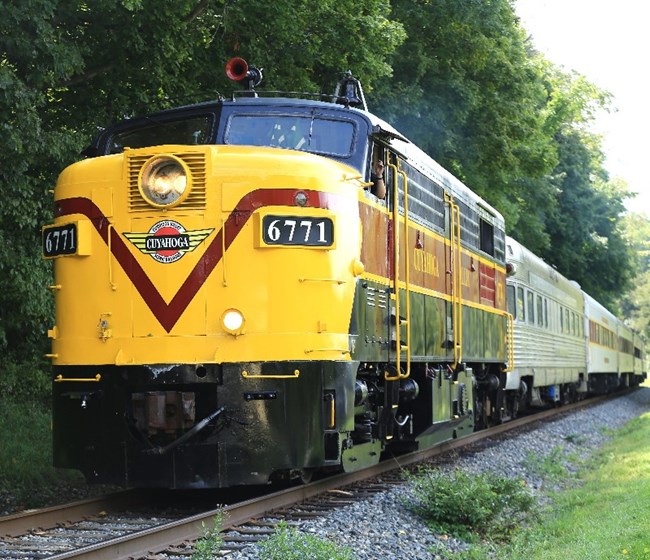 * During the COVID-19 pandemic, the Cuyahoga Valley Scenic Railroad has implement changes to ensure everyone's safety. For more information, please read the Cuyahoga Valley Scenic Railroad's Offical Statement.

All Aboard the Cuyahoga Valley Scenic Railroad! The National Park Scenic excursion is a unique way to experience all the natural wonder Cuyahoga Valley National Park has to offer. Sit back and relax as the train weaves through the Cuyahoga Valley and races along with the rushing Cuyahoga River. The route provides passengers the opportunity to possibly spot eagles, deer, beavers and otters in their natural habitat.
From January-May, the National Park Scenic excursion is a two-and-a-half hour round trip through Cuyahoga Valley National Park. Passengers can board at Rockside Station, Peninsula Depot, or at Akron Northside Station. From June through October, the train will run Wednesdays-Sundays on an extended schedule. Passengers can choose from a variety of seating options including coach, table top, first class, lounge, upper dome, executive class, or suites. Cuyahoga Valley Scenic Railroad also offers group rates, private charters and regular special events.
Visit Cuyahoga Valley Scenic Railroad's website for tickets and information.
Bike and Hike Aboard
Bike Aboard will return in May! Bike or hike the Towpath Trail in one direction and hop on the train on your way back! The train can be flagged down at boarding stations by waving both arms over your head. Please arrive 10 minutes prior to the train's scheduled arrival, you can pay your fare when you board. Bike Aboard Annual passes are available for sale for $50 per person.

Please view Cuyahoga Valley National Park's recent alerts for information on Towpath closures.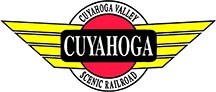 ---
History of the Cuyahoga Valley Scenic Railroad
The history of trains in the Cuyahoga Valley stretches back more than 100 years. In 1880, the Valley Railway began operations, transporting coal to Cleveland, Akron, and Canton from the Tuscarawas River Valley and providing passenger service along the way. It became another way to escape the pressures of urban industrial life, and leisure excursions were supplemented by the Guide Book for the Tourist and Traveler over the Valley Railway!
After a decade of operation, the Valley Railway became part of the Baltimore & Ohio Railroad. In the 20th century, competition from automobiles, trucks, and buses caused the decline of both freight and passenger service. Interest in the line was renewed in 1972 as a scenic excursion route and the Cuyahoga Valley Preservation and Scenic Railway Association was born. Originally known as the Cuyahoga Valley Line, the scenic railroad now operates as Cuyahoga Valley Scenic Railroad.
Cuyahoga Valley Scenic Railroad is a private sector, volunteer supported, not-for-profit 501(c)(3) organization operating in partnership with Cuyahoga Valley National Park and dedicated to the preservation of passenger rail transportation in Cuyahoga Valley and the historic Ohio & Erie Canalway.
Last updated: May 4, 2021