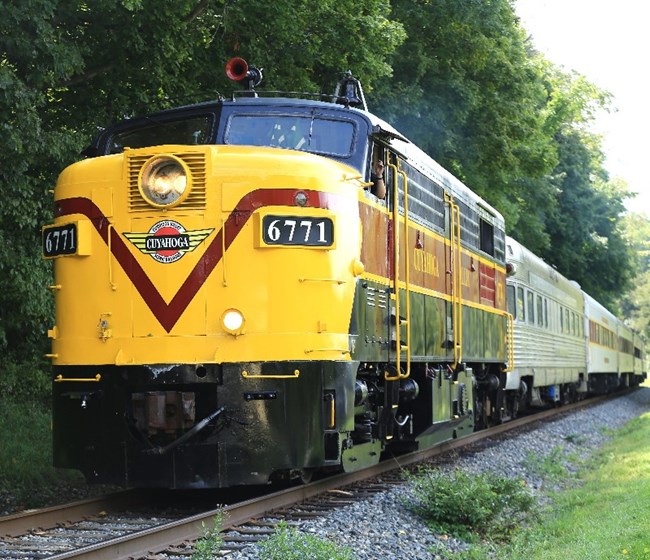 Take a Scenic Train Ride
Winter & Spring Train Schedule
All Aboard Cuyahoga Valley Scenic Railroad! The National Park Scenic excursion is a unique way to experience all the natural wonder Cuyahoga Valley National Park has to offer. Sit back and relax as the train weaves through the Cuyahoga Valley and races along with the rushing Cuyahoga River. Passengers will spot eagles, deer, beavers and otters in their natural habitat.
From January-May, the National Park Scenic excursion is a two-and-a-half hour round trip through Cuyahoga Valley National Park. Passengers can board at Rockside Station, Peninsula Depot, or at Akron Northside Station. From June through October, the train will run Wednesdays-Sundays on an extended schedule. Passengers can choose from a variety of seating options including coach, table top, first class, lounge, upper dome, executive class, or suites. Cuyahoga Valley Scenic Railroad also offers group rates, private charters and regular special events.
Visit Cuyahoga Valley Scenic Railroad's website for tickets and information.
National Park Scenic Passes
Climb aboard and experience the National Park in a new way! On board, you travel through 26 miles of the National Park throughout an approximately 3 hour round trip. Explore the scenery and natural wildlife of the park, including The Beaver Marsh, Indigo Lake, and more! Download our CVSR Train Tracker app and follow along with the Audio Tour, giving you a history of the railroad, the National Park Service, and some of wonders of the Cuyahoga Valley!
Coach Ticket $15 Adults/$10 Children (all day pass)
Coach tickets are valid for a round trip ticket in our coach seating. Passengers seated in coach may de-board the train at any station and re-board at a later time based on the train schedule.
First Class Ticket $23 Adults/$18 Children
Seating is in our first-class car. This car offers additional leg room, head rests and comfortable seating. Passengers in this car may get off throughout the duration of their train ride, but are NOT guaranteed a seat upon re-boarding.
Upper Dome Ticket $28 Adults/$23 Children
Seating is in our upper dome panoramic observation car. This car sits just above our train and offers a "birds eye view" of the park. Passengers in this car may get off throughout the duration of their train ride but are NOT guaranteed a seat upon re-boarding.
*Ticket prices do not include delivery and preservation fees.
To purchase tickets, call 800-468-4070 or click here.
Bike and Hike Aboard

Bike Aboard will return in May! Bike or hike the Towpath Trail in one direction and hop on the train on your way back! The train can be flagged down at boarding stations by waving both arms over your head. Please arrive 10 minutes prior to the train's scheduled arrival, you can pay your fare when you board. Bike Aboard Annual passes are available for sale for $35 per person.

Please view Cuyahoga Valley National Park's recent alerts for information on Towpath closures.