Canalway Questing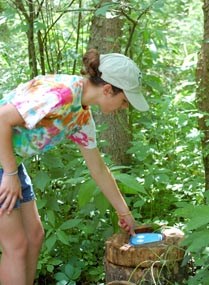 What is Questing?
Have adventures in the Ohio & Erie Canalway! Put on your sleuthing hat and follow rhyming clues and a curious map to each hidden quest box. Along the way, discover the area's treasures—the natural and cultural gems of the national heritage area.

Unlike geocaching, no GPS unit is needed and no trinkets are exchanged. When you find a quest box, collect its unique stamp, sign its logbook, and put it back in place for others to discover.

Each year, the questing season runs from April 15 through November 15.

Visit the Ohio & Erie Canalway's questing page for current information and to download quests. Printed quests are available at Boston Mill Visitor Center.

Arrye Rosser, interpretive and education specialist at Cuyahoga Valley National Park, manages the Canalway Questing program. Contact her at e-mail us or leave her a message at Boston Mill Visitor Center, 440-717-3890.
Last updated: September 15, 2021