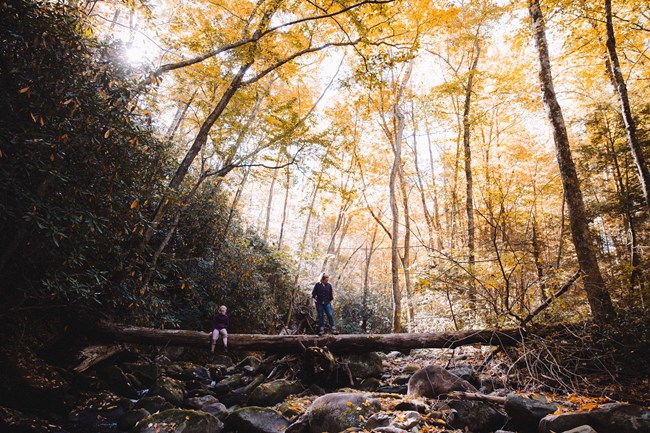 Camping
Backcountry sites are available for those backpacking on the Buckeye trail, these are located in CVNP and Cleveland Metroparks.
Camping in Cuyahoga Valley National Park
Sites within the CVNP are not directly linked to the Buckeye Trail, but interconnected trails do lead to our sites.
There are 5 primitive campsites within the park.
$25.00 per night (+ $3.50 reservation fee), per campsite, for up to 10 nights.
Campsites are available from Memorial Day weekend through October 31.
Reservations are required. Make reservations here at reserveamerica.com
For complete rules and regluations visit our camping page.
Camping in the Metro Parks
There are 3 sites available for reservation in the Ottowa Point- Buckeye Trail area.
Permits are required to use the 4 designated sites in the park.
Call 216-635-3304 to reserve a backcountry site.
4 persons and 2 small backpacking tents allowed.
1 night maximum stay for any permit.
No fires permitted
For complete rules and regulations visit the metro parks
backpacking page.
The Buckeye Trail
A portion of Ohio's Buckeye Trail passes through the park. This trail is a 1,444 mile hiking trail and long distance loop around the state of Ohio. This trail is a popular backpacking attraction. It winds through parts of woods and roads, the road portions of the trail are gradually being relocated into separate trail areas. The trail starts on Lake Erie in Headlands Beach State park and leads down the eastern edge of the state, ending in Toledo.
Length (miles)
Hiking Time (hours)
Elevation Change (Feet)
Trail Surface

Wheelchair
Accessible
Trailhead Location(s)
Egbert Picnic Area to Alexander Road
6.1
3.5
90
hilly and rocky
no
On Gorge Parkway 4/10 of a mile northwest of Egbert Road in Bedford Reservation (Cleveland Metropolis).
Alexander Road to Frazee House
1.5
.75
200
hilly and rocky
no
On Alexander Road 2/10 of a mile west of Dunham Road in Walton Hills, OH.
Frazee House to Station Road Bridge
2.5
1.25
8
firm flat, crushed limestone
yes
On Canal road 3.5 miles south of Rockside Road in Valley View, OH.
Station Road Bridge to Jaite
7
3.5
200
hilly and rocky
no
Off of Riverview Rd. .2 miles south of Chippewa Rd. (82) in Brecksville, OH.
Jaite to Boston
5.6
3
250
hilly and rocky
no
Red Lock Trailhead is located on Highland Road 1/2 mile east of Riverview. (Vaughn Road becomes Highland Road)