Boating and Kayaking
Note: The north extensions of Sea Camp and Dungeness docks are currently closed due to past storm damage. Limited docking is available at the south end of the Sea Camp dock on the inside. Areas marked with blue paint are open for docking. (9/1/2023)
Private Boating
Visitors are welcome to take their own boats to Cumberland Island. Please take time to read through the following rules and regulations.
All private boat docking is first come, first serve
Docking is permitted between the hours of sunrise and sunset; no overnight docking
Vessels must be under 25 feet
Visitors must still pay the park entry fee upon arrival, or have an America the Beautiful pass with them; self pay stations are available at each dock
Shore tying is acceptable; be aware of oyster beds and tidal changes
Boats with motors cannot be beached in the designated wilderness area; please familiarize yourself with the wilderness boundary on the park map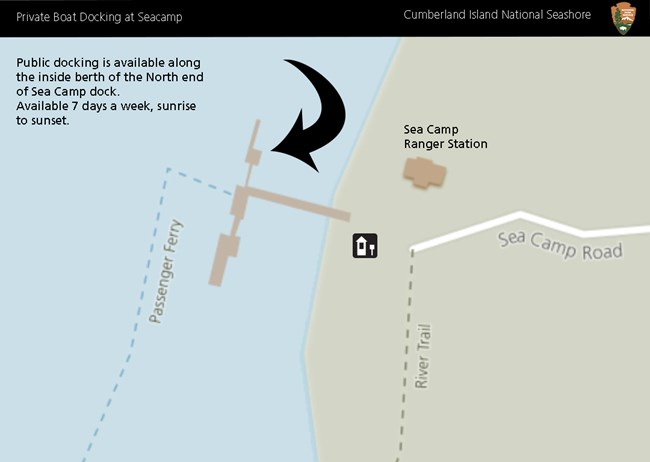 Where To Dock
There are currently three docks available for private boats: Dungeness, Plum Orchard, and Sea Camp.
Note: Docking is available for day use. No overnight docking is permitted.
Docking is available at Sea Camp dock inside the Northern extension. (See graphic on this page)
Docking is available at Dungeness dock on the Northern extension.
All of Plum Orchard dock is available for private docking.
*Note: Plum Orchard dock will be closed to use during Managed Hunts and the annual Plum Orchard Christmas Tour.
A map of the island, complete with location coordinates can be found below.
Kayaking
Kayaking can be a great way to journey to the island. Kayakers often depart from Crooked River State Park to avoid battling the tide, but some paddlers will launch from St. Marys or Amelia Island as well. Tides are very strong around Cumberland Island, with a rise and fall of 6 to 9 feet twice a day.
All Kayakers, 16 or older, must pay the
park entry fee
or have an America the Beautiful pass with them. Fees can be paid on the island at self pay stations located at each dock, in person at the Mainland Visitor Center,
online ahead of time
, or over the phone by
calling the park
.
Be prepared for changing weather and surf conditions. Always check tides and weather before disembarking. A compass or GPS unit can aid in wayfinding.
Cumberland Island is located at the southern end of the
Southeast Coast Saltwater Paddling Trail
, an 800 mile trail found in the coastal waters of Virginia, North Carolina, South Carolina, and Georgia.
Camping with a Kayak
Kayakers must make a reservation and have a printed permit with them when camping on Cumberland Island. For information on campgrounds and making reservations visit the
Camping
page.
Kayaks can be pulled ashore for camping at:
the trees just South of the Plum Orchard dock
behind the Sea Camp Ranger Station
in the Brickhill Bluff Campground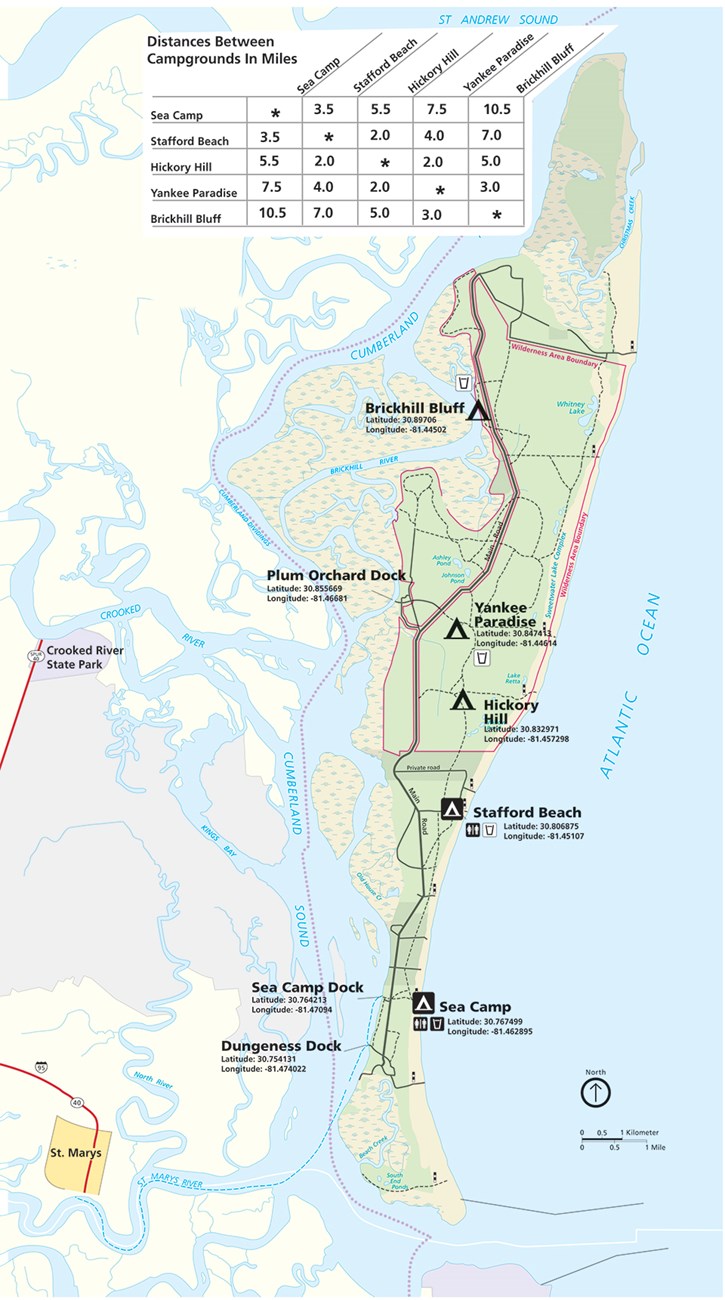 Last updated: September 7, 2023