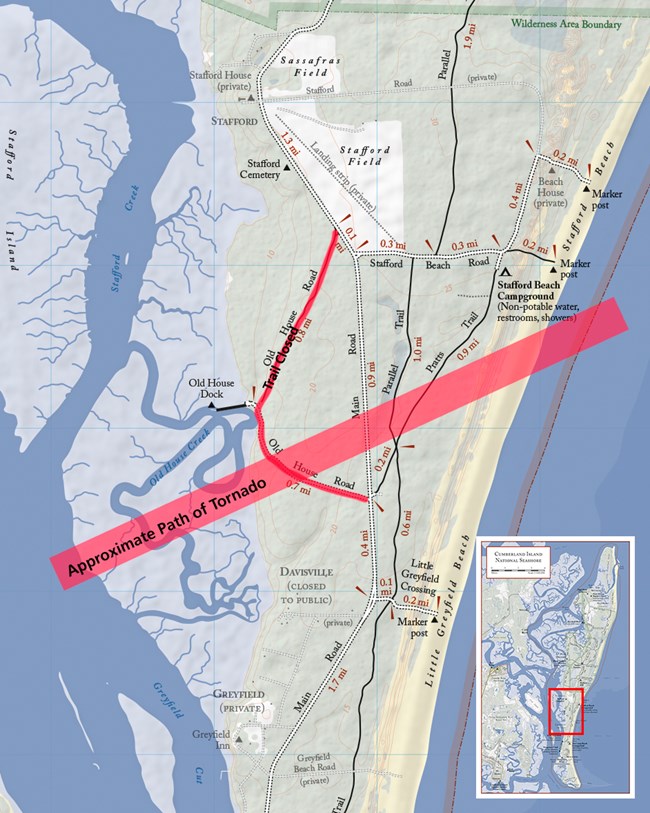 12/12/2018 - Tornado recovery continues. Pratts and Parallel trails reopen. Old House Creek trails remains closed.
Cumberland Island crews have cleared Parallel and Pratts trails. They are now open and passable. Old House Creek trail remains closed (
see map
). Down debris has made the trail impassable and tree hazards exist. Crews will be working to clear Old House Creek trail in coming days.
On the afternoon of December 2nd, a tornado touched down on Cumberland Island near Old House Creek and crossed just South of the Stafford Beach Campground. No injuries were reported.
The storm impacted a line across the island that was between approximately 1/3 and a 1/2 mile wide. Significant tree damage was sustained but no structural damage was reported.
If traveling through this area please follow all posted closure signs and following guidance from park rangers.
All ferry service and campgrounds are operating normally.