Cumberland Island Camping
COVID-19 Safety Protocol
Learn how to keep yourself and others safe while you visit the park.
COVID-19 Safety
Transcript
Camping is a great way to experience Cumberland Island National Seashore but a bit of planning and preparation will help you have a safe and enjoyable visit. Cumberland Island is only accessible by boat. Pack your items so they can be easily loaded and unloaded from the ferry. There are five campgrounds on the island: Sea Camp, Stafford Beach, and three wilderness sites Hickory Hill, Yankee Paradise, and Brick Hill Bluff. All camping requires a reservation which can be made from the recreation.gov website up to six months in advance. Walk-up reservations are not accepted. All campers must de-board the ferry at the Sea Camp dock when arriving on the island. Sea Camp campground is located a half mile from the Sea Camp Dock. There are flush toilets, drinking water, cold showers, and a dish washing sink. Each site has a fire ring with grill, picnic table and food storage. A short boardwalk provides access to the beach. Sites are $22 a night good for up to six people. There are two group sites at the Sea Camp campground group sites can accommodate between 7 and 20 campers each and sites are $40 a night Stafford Beach campground requires a three and a half mile hike to reach. The campground has flush toilets cold water showers and water spigots but all water must be treated before drinking. Campers must hang all food and trash, and each campsite has a fire ring with a grill. A short trail provides access to the beach. Each permit is $12 a night and it's good for up to six people. Be sure to bring a refillable water bottle, map, bug spray, sunscreen, and extra clothing. If you are staying at Stafford Beach campground or one of the wilderness sites a rope to hang food and water filter are essential. Carts can be rented from the ferry when you arrive at the island or you can bring your own cart in order to transport gear to the Sea Camp campground. If you are bringing your own cart please be sure that it fits there a standard sized doorway. That will ensure that it can be loaded onto the ferry. Carts are not permitted north of the Sea Camp area. If you are traveling to Stafford Beach or any of the wilderness sites be prepared to backpack all gear to those sites. Bikes can be taken to sites at Sea Camp and Stafford Beach. Please walk your bike through the campground when you arrive for safety. Bikes are not permitted in designated wilderness. If you are planning on riding a bike and staying at Hickory Hill Yankee Paradise or Brick Hill Bluff, the bike will need to stay along the roadway. You cannot take it over to the site. You may secure the bike to a tree if you wish. If you're staying at Sea Camp or Stafford Beach campgrounds please take your backcountry permit and when you arrive at your site, clip it to the numbered post that's in front. That lets Park Rangers know that you're there and how many nights you'll be staying for. All tents must be pitched within the established and designated area of the campground. Signs will display where that is. When you're picking a location to pitch your tent be sure you're not going to damage any established vegetation and that the surface materials are not going to show a lasting mark Hammocks are welcome and many sites will accommodate them. Use non-damaging straps when hanging your hammock and be sure no vegetation is harmed. Fires are permitted in designated fire rings at Sea Camp and Stafford Beach campgrounds. Campers can collect dead and downed wood for burning or bundles of wood can be purchased from the ferry. Do not leave your fire burning unattended even if leaving for just a short period of time. Fully extinguish your fire before leaving the site. Be sure to put all food trash and scented items in food storage provided at Sea Camp, or hung from a tree branch when staying at another campground. Remember that toothpaste and sunscreen may not be food but they'll smell pretty good to a raccoon or squirrel. Quiet hours are between 10 p.m. and 6 a.m. Please be a good neighbor. Cumberland Island is a pack-it-in, pack-it-out location. Campers must pack out all food scraps and trash with them and dispose of it when they reach the mainland. There is a dumpster at the visitor parking lot that you can use. Do not burn trash in fire pits, and when you leave your sight you can take your camping permit with you. Cumberland Island is home to several bug species that can be a nuisance. Biting midges or no-see'ums can be severe during the comfortable spring and fall weather; mosquitoes, mites, and ticks can increase the number during the summer. Consider insect repellent an essential item when camping on Cumberland Island. When you leave the island be sure to thoroughly check for ticks underneath clothing and hiding in hair. Checkout time is 10:00 a.m. for all campgrounds. Sea Camp campers must make a reservation on the 10:15 a.m. ferry departing from the Sea Camp dock the day they are leaving. For all other campers make a reservation to depart on the 2:45 p.m. ferry when it is being offered. To make reservations to camp at Cumberland Island National Seashore please visit www.recreation.gov. For more information for camping on Cumberland Island, please visit the park service website at www.nps.gov/cuis or dial 912-882-4336 and speak with a ranger.
Visit our keyboard shortcuts docs for details
Duration:

6 minutes, 5 seconds
Information to help you plan and prepare for your camping trip to Cumberland Island National Seashore. Additional information for camping at designated wilderness sites is available at www.nps.gov/cuis.
Important for Campers
* You must have a reservation to camp on the island
* Print a copy of your camping permit within 10 days of the start of your trip and bring it with you to the park
* Sea Camp is the only campground with drinkable water
(treat water at all other campgrounds)
* No fires at the wilderness sites (Hickory Hill, Yankee Paradise, and Brickhill Bluff)
* Be prepared to hang your food at all three wilderness campgrounds
* Carts of any kind are not allowed north of Sea Camp. Campers should be prepared to hike all gear into Stafford Beach and all three wilderness sites.
* Plan camping reservation around seasonal ferry schedule (no Tuesday/Wednesday ferry during winter, Dec. 1st - Feb. 28th)
Hammocks must be free-standing.  Tying to trees or any structures prohibited.
Make your reservation online
Making Camping Reservations
To make reservations for camping please visit:
search "Cumberland Island National Seashore"
Read through the Overview, Need to Know, and Fees & Cancellations sections
Select the "Build Itinerary" button to look for availability and put together your trip
Once you have entered the starting date & group size at the top, the calendar will display available campsites.
When you hover over a site with you mouse cursor, the map on the right will show its location. Click the itinerary tab at the top of the map to see the dates and locations you have selected.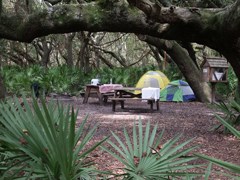 General Information
Reservations can be made up to six months in advance.
Dates will become available six months in advance to the day. (Note that dates will no longer open a month at a time.)
Reservations can be made for nights beyond the open window provided the entry date is within six months. (Please note that you cannot change your entry date. In order to do this the reservation will need to be cancelled and a new reservation made. All fees apply.)

The Wilderness area and associated campsites are CLOSED during managed hunts on the island. Hunts are held October through January each year. If you camp during these times you will not be able to hike into the wilderness area or to Plum Orchard. Check the

managed hunts

page to see if this may impact your visit.
Permits and Fee Requirements
Camping fees are paid online
Park entrance fees are paid at the Mainland Visitor Center when checking in for the ferry. Private boaters may pay their entrance fee using the pipe safes located at each island dock.
***Visit the fees and passes page for fee rates.***
Print and retain one copy of the camping permit at all times during the stay.
Overnight Parking
Camping Rules and Restrictions
Stay Limit: 7 consecutive nights.
A person cannot hold more than one permit for the same date. That permit holder must occupy the site.
Maximum campers and equipment: The individual site maximum is six persons. The Sea Camp Group Campground maximum is 20 people. Children two years of age and under do not count toward the maximum.
Gear Transport: Carts and wheeled coolers of any kind are not permitted North of the Sea Camp area. Campers with reservations at Stafford Beach, Hickory Hill, Yankee Paradise, or Brickhill Bluff campgrounds should plan on backpacking all gear to those sites.
Campfires: Only permitted at Sea Camp & Stafford Beach. Use designated fire rings only. You may gather dead and down wood or purchase bundles of firewood on the ferry.
Propane Tanks: Propane tanks larger than 1 gallon are NOT permited on the ferry.
Hammocks: Hammocks must be free-standing. Tying to trees or any man made structure prohibited.
Check out time: 10:00 a.m.
Quiet hours: 10:00 p.m. to 6:00 a.m.
Food and Trash Storage: Store or hang all food and trash. Raccoons are common. Follow Leave No Trace principles
Drinking Water: Available at Plum Orchard and all areas south of Sea Camp. Treat water at all other areas of the island.
No Pets: Only service animals are permitted in campgrounds.
No Lifeguards. Swim at your own risk.
All animals on the island - including horses - are wild! Do not approach within 50 feet of horses; they may bite or kick.
America the Beautiful Passes - Discounts
Senior and Access passholders are entitled to a 50% discount on camping fees at individual sites. The pass number can be entered on Recreation.gov at the time of reservation. The passholder must occupy the site. Present the pass in person, with ID at the Mainland Visitor Center during check in.
*No pass discounts on group campsites.
Returning on the ferry?
Campers staying at Sea Camp Campground
you are required to return on the 10:15 A.M. ferry from Sea Camp Dock
Campers staying at Stafford Beach, Hickory Hill, Yankee Paradise, and Brickhill Bluff Campgrounds
you are required to return on the 2:45 P.M. ferry from Sea Camp Dock on dates when it is operating.
Campers can make a special request to return on the 4:45 P.M. ferry by contacting the Ferry Office. Due to the likelihood that the 4:45 P.M. ferry will be full, these requests will be subject to availability.
Camping with a Bike
You can bring your own bike camping, or rent one while you are on the island, but there are some things you should know before you do.
Visit the Biking page for more info
Campground Information
Cumberland Island offers  five campgrounds , which include designated campsites at Sea Camp and Stafford Beach; and Wilderness campsites at: Hickory Hill, Yankee Paradise and Brickhill Bluff. Camping is only permitted in these five campgrounds.  A permit is required to camp in any of these five camping areas.
Refund & Cancellation Policy
Cancellations 10 days or more before the start date of the reservation will result in a refund of the permit cost minus a 25% cancellation fee.
Cancellations less than 10 days from the start date of the reservation will result in a refund of the permit cost minus a 50% cancellation fee.
No refunds will be granted for cancellations one day prior to the start date of the reservation. When a reservation is cancelled, those dates will be made available for other campers at a random time within 24 hours.
Changes Before Permit is Printed:
The Refund and Cancellation Policy will be applied to all changes to the reservation. The start date of the reservation cannot be changed without cancelling the reservation. A new reservation must be made. Cancellation fees apply and fees associated with making a new reservation apply. Reservations are non-transferable.
After Permit is Printed:
Changes cannot be made to permit once it is printed. Changes will require a cancellation of the permit and reserving a new permit, if space is available. All cancellation fees and new reservation fees apply.

Permits can only be printed within 10 days of the arrival date.

You cannot change your site assignment.

All permits must be honored as they are.

Ensure every person on the camping permit has reserved a round-trip ferry ticket or has transportation via private boat.
No Show Policy
If you do not cancel and decide not to use your reservation, none of the fees will be refunded. Please cancel your reservation if you are unable to use it as this opens space for others.


Last updated: June 10, 2021