Visiting in May and June
Some park facilities may be closed or have reduced hours in May/June 2021 due to COVID-19. Please visit our
Current Conditions page
to find out the current status of services and facilities in the park. This webpage is not being updated.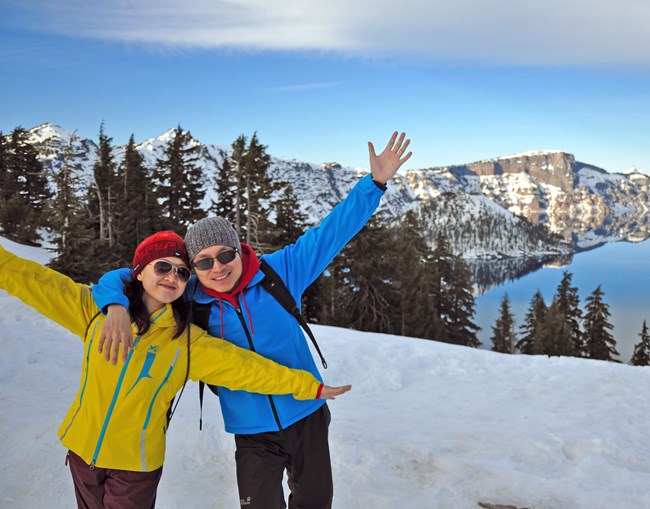 The most popular months to visit Crater Lake are July, August, and September. That's when the park's roads, trails, and facilties are usually fully open.
May and June are months of transition in the park, as winter slowly gives way to summer. They can also be months of frustration, as lingering snow prevents us from accessing much of the park.
Is it still worth visiting in May and June? Absolutely! But it helps to come prepared with realistic expectations of what you'll be able to see and do. Below are some tips for making the most of your late spring visit.
Weather and Snowpack
May and June can bring sunny skies or severe snowstorms. In May, the average daily high temperature is 50 degrees F. But the average monthly snowfall is 20 inches, and the average snow depth at Park Headquarters is more than 6 feet! The average nightly low temperature is 28 degrees F.
In June, daily highs average 58 degrees F. The park averages only 4 inches of new snow, but the average snow depth at Park Headquarters is still 2 feet. The average nightly low in June is 34 degrees F.
The National Weather Service provides the most accurate
weather forecast
for the park. To find out yesterday's high and low temperatures, rain and snow totals, and current snow depth, visit the National Weather Service page that hosts our
weather station data
. View the "daily almanac" for "Crater Lake NPS."
Roads and Trails
In May and June, you can drive to Rim Village, which overlooks the lake. From there, on a clear day, you can enjoy spectacular lake views. But the road around Crater Lake and the park's North Entrance might be closed due to snow.
Before you visit, learn about
seasonal road closures
and check our
current conditions
page to find out which roads are open right now.
The park has more than 90 miles of hiking trails, but in May and June they are typically covered by deep snow. When snow-covered, most trails are either too difficult to follow, or too dangerous.
Things to Do in May and June
View the Lake
Weather permitting, you can see the entire lake from Rim Village. During periods of rain and snow, however, the lake is usually hidden by clouds. The lake is completely invisible about 20% of the time in May and 10% in June. To find out if the lake is visible right now, view our
webcam
at Rim Village.
Go for a Snowshoe Walk
One way to explore the park in May and June is on snowshoes. You can rent snowshoes at the Rim Village Gift Shop for $16/pair. Ask at the Visitor Center for recommendations on where to go.
Hike (or Bike) on the Rim Drive
The best place to walk without snowshoes is on the Rim Drive. In May and June, there are usually sections of road that have been plowed but are not yet open to cars. Hikers, bicyclists, and pets on leash are allowed beyond the gates.
Watch the Park Film
Explore the park's violent past—and its present tranquility—in a 22-minute film shown every half hour at the Steel Visitor Center at Park Headquarters.
Tour Crater Lake Lodge
Check out the history exhibits, relax in the Great Hall, and attend a ranger talk at the park's historic hotel. In 2020, the Lodge opens on May 15. Ranger talks are presented daily at 4 pm; check posted schedules for topics.
Become a Junior Ranger
Are you at least 6 years old? Ask for an activity book at the Visitor Center. Complete at least 7 pages to earn a Junior Ranger badge.
Enjoy the Snow
Opportunities to play in the snow abound at Crater Lake in May and June. Build a snowman, make a snow angel, or challenge your traveling companions to a snowball fight.
Services and Facilities
Many facilities close in the winter due to snow. Here are the scheduled opening dates for 2021. For hours of operation and more information, visit our
lodging
,
camping
,
restaurant
, and
visitor center
pages.
Lodging
Crater Lake Lodge - opens May 14
The Cabins at Mazama Village - opens May 21
Camping
Mazama Campground - opens June 11
Lost Creek Campground - closed in 2021
Food
Rim Village Café - open year-round
Crater Lake Lodge Dining Room - opens May 14
Annie Creek Restaurant - opens May 21
Visitor Centers
Steel Visitor Center at Park Headquarters - closed in 2021
Rim Visitor Center - closed in 2021
Last updated: May 18, 2021