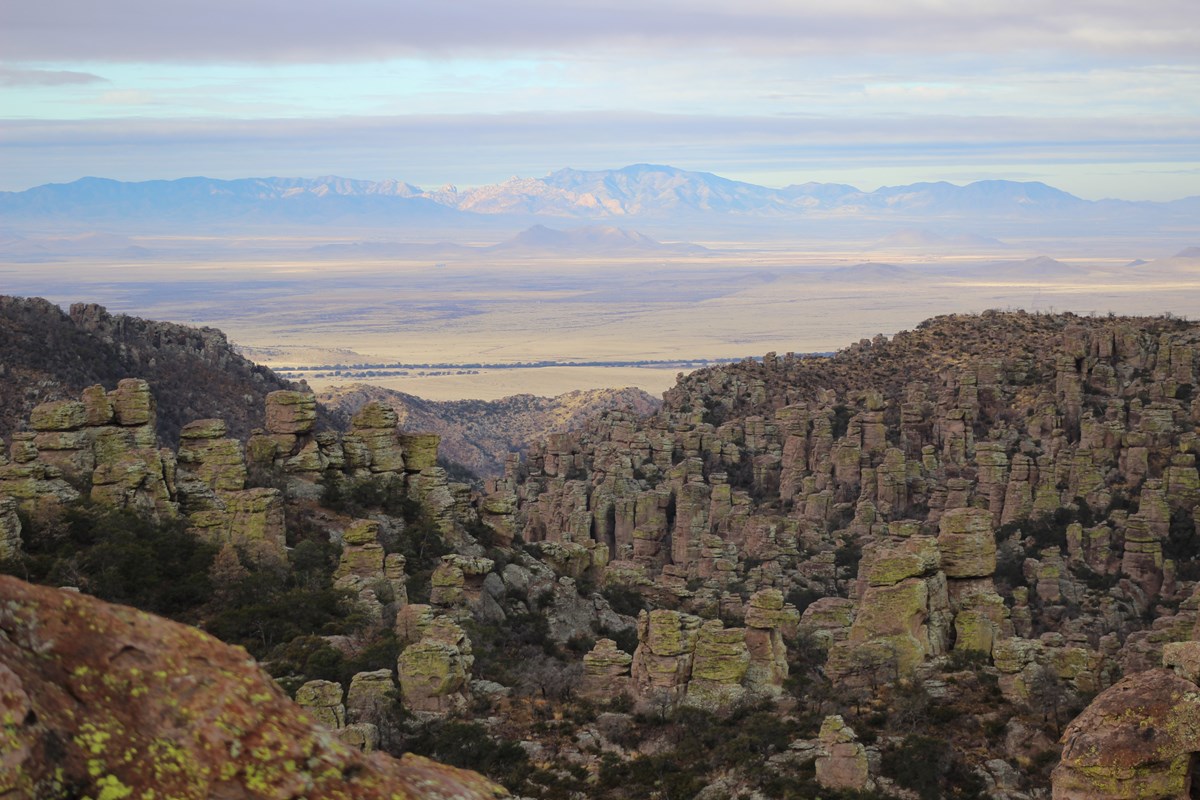 Chiricahua National Monument is one of several
sky islands
in southeastern Arizona. A sky island is an isolated mountain range that rises up out of the surrounding desert "sea." The Chiricahua National Monument Visitor Center is 5,400 feet (1,646 meters) above sea level. The high point in the Chiricahua Mountains – Chiricahua Peak – is 9,795 feet (2,986 meters) above sea level. The Chiricahua sky island rises about 6,000 feet (1,829 meters) above the Sulphur Springs Valley. Sky islands are part of the larger
Basin and Range Province
.
Sky islands are unique. As the elevation changes, so do the surrounding ecosystems. As the altitude increases, the temperature decreases. The amount of breathable oxygen in the air also decreases the higher up you go. Conditions often vary from the bottom of Chiricahua National Monument to the top. Near the lower elevations, the monument tends to get hot summers and mild winters. whereas near the higher elevations, there are more mild summers and frigid winters. When it is raining at the lower elevations, it could be snowing higher up. The average precipitation at the bottom is 15 inches (31 centimeters) per year, but it can be twice as much at the top. The higher elevation of Chiricahua creates different weather conditions from the lower valleys.
The sky island's special environment results in extraordinary biodiversity. The monument is located at a crossroads between four major ecosystems. The
Rocky Mountains
,
Sierra Madre
,
Sonoran Desert
, and
Chihuahuan Desert
converge here. The monument also has characteristics of five world biomes:
Desert
;
Grasslands
;
Chaparral
;
Deciduous Forest
; and
Coniferous Forest
.
Biomes are large areas of plant and animal groups that are adapted to a specific environment. Biomes are characterized by abiotic, or non-living, factors like
climate
and
geology
. In Chiricahua, these characteristics mix together to create a unique mosaic of environments. Many
species of wildlife and plants
can be found at all elevations of the monument.
Learn more about the natural and cultural resources of the
American Southwest.