Nature & Science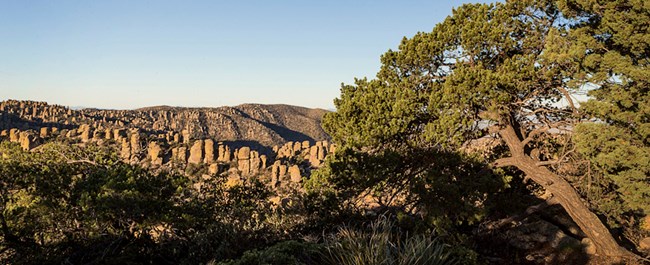 In the far southeastern corner of Arizona are the impressive Chiricahua Mountains, one of several sky island mountain ranges surrounded by expansive desert grasslands. The Chiricahua Mountains are an inactive volcanic range twenty miles wide and forty miles long. It forms part of the Mexican Highland section of the Basin and Range Biogeographical Province and rises up dramatically from the valley floor to over nine thousand feet, cresting in a series of uneven, volcanic looking peaks. At the northern end of the range is an extraordinary area of striking geological features and enormous biodiversity. Tucked deep into these steep, forested valleys and beneath the craggy peaks are the remains of violent geological activity that continued for many millions of years—the pinnacles, columns, spires and balanced rocks of
Chiricahua National Monument
.
The
Apaches
called this place "The Land of Standing-Up Rocks," a fitting name for the canyons of extraordinary rock towers. Early pioneers in the late 1800s sensed the unique beauty and singularity of the rock formations in the area.
The Ericksons and Riggs
were instrumental in persuading Congress to protect this "Wonderland of Rocks," so much so that in 1924 the Chiricahua National Monument was created.


Last updated: February 9, 2019