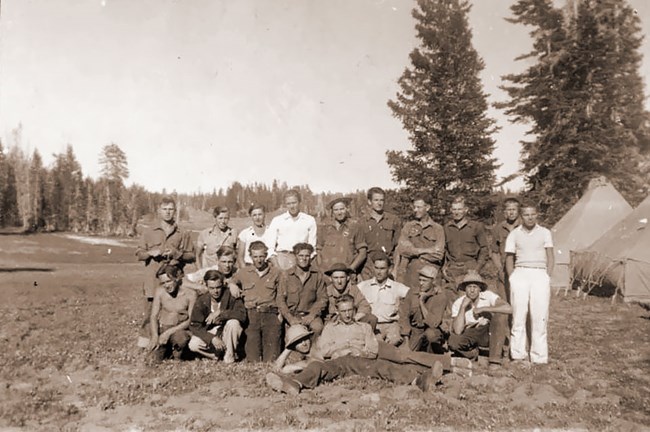 As part of the New Deal Program, to help lift the United States out of the Great Depression, Franklin D. Roosevelt established the Civilian Conservation Corps in 1933. The CCC or C's as it was sometimes known, allowed single men between the ages of 18 and 25 to enlist in work programs to improve America's public lands, forests, and parks.

In 1934, on July 4th, the CCC made their first appearance at Cedar Breaks, "act[ing] as traffic directors, assist[ing] in getting many of the stalled cars up to the Breaks and serv[ing] a barbecue to some 3,000 people" at the official dedication ceremony and celebration for the new national monument. That, of course was just the beginning of the Cs' involvement here.
Due to the high elevation, the CCC camp at Cedar Breaks was what was called a "stub camp" and therefore only occupied during the warmer months of the year. The rest of the year, CCCers worked in other camps at lower elevations, in places like Zion National Park. But even then, the weather at Cedar Breaks wasn't always ideal for working, as member of CCC camp #1966, Henry A Bott Jr. put it: "We got hailed on and we got snowed on, but we had a lot of fun doing the job." And what a wonderful job the crews did!

From 1934 to 1938, the Cs completed a wide range of projects in the monument. They created roads, trails, rail guards, and parking, established a campground for visitors, complete with picnic tables, fireplaces, restrooms, sewer line, and a disposal system.

One of their proudest accomplishments at Cedar Breaks was in 1935, when "[w]ith a force of 50 enrollees and 2 foremen" they built a boundary fence around the monument, consisting of 4,932 posts that were "cut and hauled [from] Zion National Park" in just under two months. These fences eventually helped to keep livestock out of certain areas of the monument and may attribute to today's remarkably lush wildflowers within Cedar Breaks' boundary.