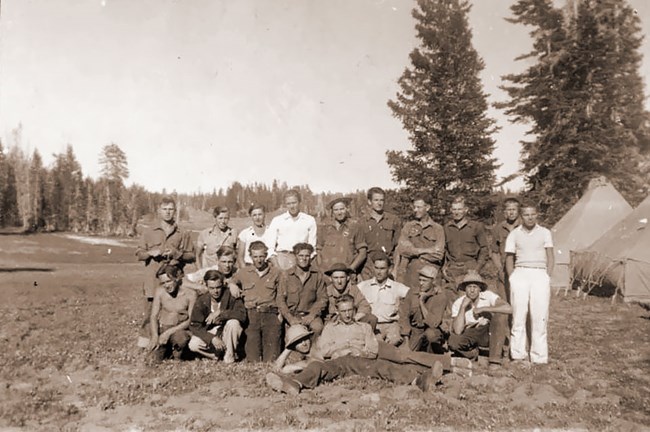 As part of the New Deal Program, to help lift the United States out of the Great Depression, Franklin D. Roosevelt established the Civilian Conservation Corps in 1933. The CCC or C's as it was sometimes known, allowed single men between the ages of 18 and 25 to enlist in work programs to improve America's public lands, forests, and parks.

In 1934, on July 4th, the CCC made their first appearance at Cedar Breaks, "act[ing] as traffic directors, assist[ing] in getting many of the stalled cars up to the Breaks and serv[ing] a barbecue to some 3,000 people" at the official dedication ceremony and celebration for the new national monument. That, of course was just the beginning of the Cs' involvement here.
Due to the high elevation, the CCC camp at Cedar Breaks was what was called a "stub camp" and therefore only occupied during the warmer months of the year. The rest of the year, CCCers worked in other camps at lower elevations, in places like Zion National Park. But even then, the weather at Cedar Breaks wasn't always ideal for working, as member of CCC camp #1966, Henry A Bott Jr. put it: "We got hailed on and we got snowed on, but we had a lot of fun doing the job." And what a wonderful job the crews did!

From 1934 to 1938, the Cs completed a wide range of projects in the monument. They created roads, trails, rail guards, and parking, established a campground for visitors, complete with picnic tables, fireplaces, restrooms, sewer line, and a disposal system.

One of their proudest accomplishments at Cedar Breaks was in 1935, when "[w]ith a force of 50 enrollees and 2 foremen" they built a boundary fence around the monument, consisting of 4,932 posts that were "cut and hauled [from] Zion National Park" in just under two months. These fences eventually helped to keep livestock out of certain areas of the monument and may attribute to today's remarkably lush wildflowers within Cedar Breaks' boundary.

Museum Building and Ranger/Caretaker Cabin
One of their most lasting and famous accomplishments at Cedar Breaks was building the rustic log-cabin style Museum (today the Visitor Center) and the Ranger/Caretaker Cabin in 1936 and 1937. CCCer Robert Barker recalls fondly the days he spent working on the Museum building:
"Around the first of June when we arrived at Cedar Breaks there was still quite a bit of snow in and around the barracks and north side of the trees. So, it took us a few days to make our camp ready. We worked on this and made things ready, then after we got our camp situated so that we could have a living quarters that was comfortable and enjoyable, part of the crew was sent to work on roads in various parts of the Cedar Breaks.
I was, like it or not along with five other guys, sent to work on the Museum. That was the purpose for going there was to complete the work on this Museum. Some work had been done on this the previous year. The floor was laid and a few logs all around the building were put into place. Of course, now, we had to begin, there were some logs still left, they still had their bark on them. So, Mr. Willis directed us to peel off this bark.
First, we had to break off all the little limbs, took the little limbs off, and peel the bark off, and he didn't want any axe or hatchet mark or knife marks on the logs. So, we had to peel them off very carefully and be very smooth about it. It was very tedious work, but we enjoyed it, nevertheless. As soon as the logs were peeled, why, then we made them ready to be laid in the proper place. Measurements were taken, and with a two-man handsaw we cut these logs to the proper length as directed by Mr. Willis. So this, and each and every day why this was our role. Of course, there were just a few logs left from the previous year, and some of the boys were sent into the forest to fell the trees, bring them back to the area here where they could be stripped of their bark, so this was time consuming. Nevertheless, we worked very diligently on this each and every day. "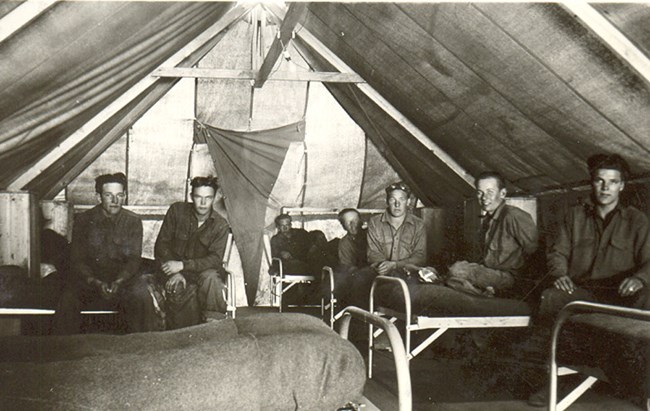 Life in the "Stub Camp"
Life in the Cedar Breaks Stub Camp wasn't by any means all fun and games, but it surely wasn't all work either. And the living conditions?—Well, let's just say that according to Supt. Beck in the first edition of the CCC newspaper, See Der Breaks News in 1935 there was "concencus of opinion that we have the finest location in the state. We think we are in the running for the best camp in the state of Utah." But, let's be clear, despite the fine location, it was often very cold in the CCC tents at night. According to CCCer Wesley Boyle, at Cedar Breaks, he "lived in this little four bed tent. They were about square and they had a stove in the middle to heat us. At night it'd get real cold." As a matter of fact, Boyle on the other CCC boys saw it snow up at Cedar Breaks in July.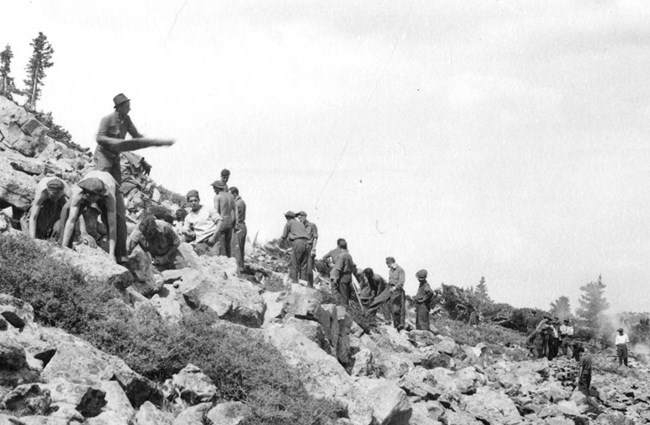 CCC Projects Near By
In 1935, along with their work at Cedar Breaks, the stub camp also worked on many projects close by in the Dixie National Forest. This includes: constructing Lookout shelters, foot trails and comfort stations at Blow hard mountain and Brian Head Peak, as well as building the road leading up to the top of Brian Head Peak.
The CCC's SEE Der Breaks newspaper eagerly discusses the project at Brian Head predicting, "[t]his road, when completed, will cover several advantages to the tourists of the future, since it will render accessible the proud promontory of Bryan Head, which rises 11,400 feet above sea level and has the distinction of being the highest peak in Southern Utah. From this point one can enjoy a beautiful view of the verdant landscape around it, besides the flashy, colorful cliffs and spires of Cedar Breaks. It allows one to gaze into the pale, distinct horizon of delicately tinted mountains which are really mountains of other states. Therefore, it is boasted that four states can be seen by a person who stands upon this unique spot."