Annular Solar Eclipse, October 14, 2023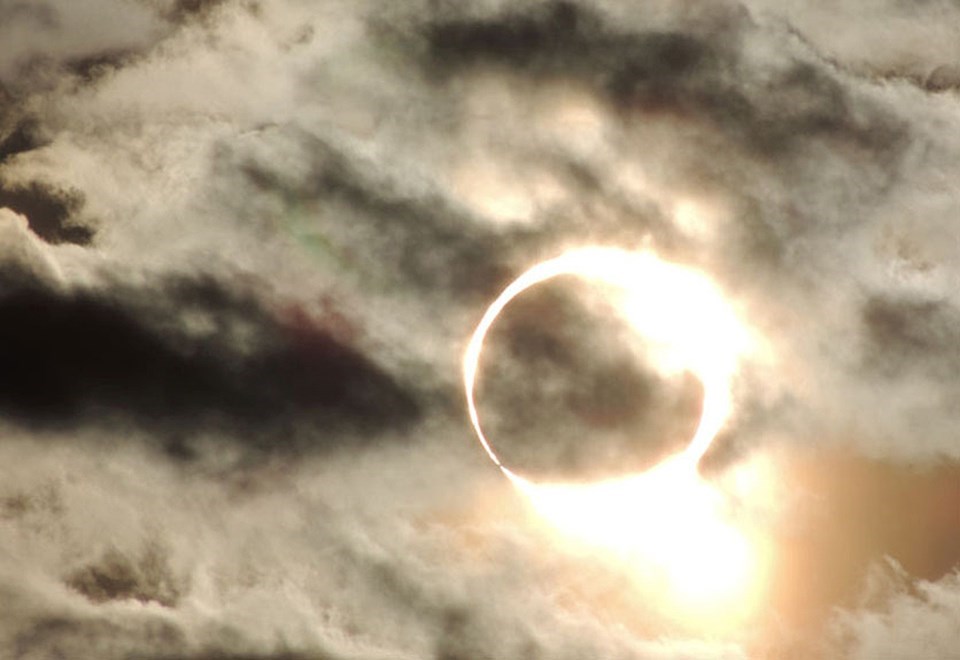 So, I heard there is an eclipse in October...
On Saturday, October 14th, 2023, an annular eclipse will pass over seven states and 30 national park units. Almost all of southern Utah will be in the path, including Capitol Reef and neighboring public lands.

Visitors at Capitol Reef will experience a celestial wonder as the moon passes directly between the sun and Earth. For several hours, you can watch as the sun is slowly covered by the traveling moon, leading up to a 4-minute window of greatest eclipse starting at 10:27 am MDT. This will not be like the total eclipse of 2017 where the sun was completely covered. Instead, a "Ring of Fire" will appear around the moon.
What is an Annular Eclipse?
Annular solar eclipses and total solar eclipses both occur when the moon passes between the sun and Earth. This blocks the sun for a few minutes by casting the moon's shadow upon a small part of Earth. The difference between the two is in the elliptical orbit of the moon. On October 14th, the moon will be too far away from the Earth to completely block the sun. Instead of darkness, the edges of the sun will poke around the moon, creating a "Ring of Fire." The sun's power will still be intense enough to cause serious eye damage, thus eclipse rated eye protection is a must for viewing the eclipse safely.
What to Expect as You Plan:
Expect large crowds throughout the area, plan ahead and have a backup plan.
The visitor center and bookstore will be closed from 9:30am to 11:00am on the day of the eclipse. Staff will be stationed at the visitor center to direct traffic to open areas.
Some areas within the park may close when full to maintain emergency access.
Plan for congestion as the eclipse ends! Consider staying where you are and prepare for heavy traffic in the area throughout the day.
Consider staying at your campsite or lodging place to view the eclipse if you want to avoid traffic.
Camping reservations in the park are fully booked. Check out camping alternatives in the area. Know the rules and ettiquette for dispersed camping on public lands.
Lodging is likely fully booked in the area.
There is a marathon on Utah Route 12 between Boulder and Escalante on October 14. Expect additional congestion and closures related to the race.
When?
At Capitol Reef National Park, a partial eclipse will begin around 9:10 am MDT as the moon begins to cross the sun's face. As the partial eclipse increases, the sun will look like a giant cookie with a bite taken out of it. The annularity (maximum eclipse or "Ring of Fire") begins at 10:27 am MDT and will go through 10:32 am MDT.

The full eclipse timeline:
9:10am MDT: Partial solar eclipse begins
10:27am MDT: Annularity begins.
10:32am MDT: Annularity ends. Partial solar eclipse resumes.
11:57am MDT: Partial solar eclipse ends
Where?
Capitol Reef is among many locations to view this eclipse and many events are taking place in the area.

Snow College in Richfield, UT is hosting an eclipse event. There will be science experiments, telescopes, and more. Visit the Snow College website for more information.

The town of Marysvale, UT is hosting a three day eclipse event with science demonstrations and more. Visit the Marysvale website for more information.

The Henry Mountains Field Station of the Bureau of Land Management is planning a viewing area at the Swing Arm City area which is east of the park. Swing Arm City is just north of UT 24; 35 miles (56.3 km) east of Torrey and 12 miles (19.3 km) west of Hanksville.
What kind of experience would you like?
Do you like ranger programs? A hike into the wilderness with a close group of friends and loved ones? Access to the roads and visitor center?

With the entire park in the path of maximum eclipse, anything is an option! Rangers will be providing eclipse related programs in the days leading up to the event. See Ranger Programs below to see when and where programs will take place. Visitors can also hike any of the frontcountry or backcountry trails for a unique perspective amongst the rock outcrops of Capitol Reef National Park. Any overnight backpacking trips do require a free backcountry permit which can be obtained at the visitor center.

Dispersed camping is prohibited within the park. Neighboring Bureau of Land Management (BLM) and US Forest Service (USFS) lands do permit dispersed camping, please inquire locally for dispersed camping rules and ethics.

Ranger Programs
October 9 - 13
Daily astronomy activites at 11 am; 30 minutes at Ripple Rock Nature Center lawn.
Daily solar scope viewing outside the visitor center, stop by to look safely at the sun. Times to be determined.
October 12, special eclipse evening program at 7:30 pm at the campground amphitheater.
Check back for more details as we get closer to the eclipse!
Lodging:
Camping will be very limited in Capitol Reef National Park during this event due to high demand. Reservations for the Fruita Campground are required and can be made up to six months in advance on recreation.gov. Primitive camping at Cedar Mesa or Cathedral Valley are free and first-come, first-served, however it is limited to 5 and 6 sites per campground respectively. Car camping and dispersed camping outside of designated camp sites is prohibited within the boundaries of Capitol Reef National Park. Visitors wishing to backcountry camp may obtain a free permit at the visitor center.

Camping alternatives can be found outside of the park on surrounding Bureau of Land Management (BLM) lands, US Forest Service (USFS), and private campgrounds.

Hotels are open in many towns surrounding Capitol Reef. Please visit the Wayne County, Utah Office of Tourism page for more information.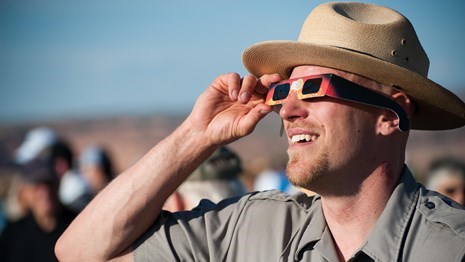 Safe eclipse viewing:
Unlike a total solar eclipse, it is
never
safe to look directly at the sun without eclipse rated eye protection at any time during an annular eclipse. As an annular eclipse does not fully block out the sun, the light emitting off of the sun will still be intense enough to cause permanent eye damage after only a few seconds of unprotected viewing.
It is safe to view the eclipse with specially designed solar filters, such as "eclipse glasses." "Eclipse glasses" that are over 3 years old, have scratches, or holes in them should not be used. Homemade filters and ordinary sunglasses, even very dark ones, are not safe for looking at the sun. Visit the
eclipse safety page
to find answers to safely viewing solar eclipses.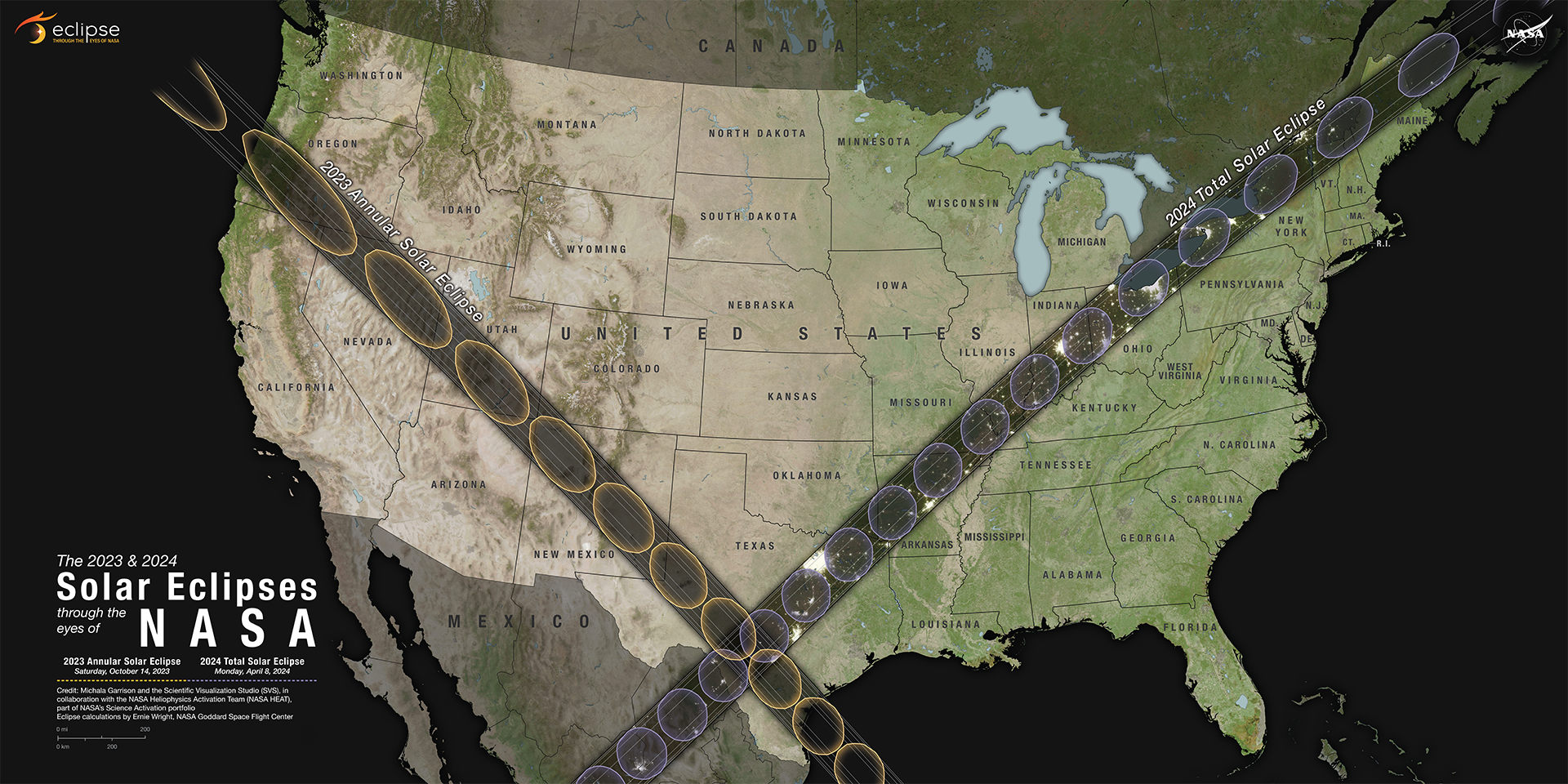 I can't make it to the park! What now?
Not to worry! Most of southern Utah is in the path of the annular eclipse.
Bryce Canyon
,
Glen Canyon
,
Grand Staircase Escalante
,
Bears Ears
,
Canyonlands
,
Natural Bridges
, and
Rainbow Bridge
will all experience the full eclipse.
Can't make it to Utah? The path of the annular eclipse will travel over a total of 30 National Park sites and portions of: Oregon, California, Nevada, Utah, Arizona, Colorado, New Mexico, and Texas. It will also be visible in parts of Mexico, Central America, and South America. All of the continental United States will be able to see even a slight partial eclipse, with a greater percentage covered as you get closer to the path of annularity.
There will be a total eclipse on April 8, 2024! This eclipse will pass over 27 park units in 11 states from Texas to Maine.
NASA has created maps
showing the upcoming eclipses and the path each will take across the United States.
Did you know?
Total solar eclipses will stop happening and only annular eclipses will occur in the future. This is due to the moon slowly orbiting farther and farther away from Earth at a rate of 1.5 inches (3.8 cm) per year. At that rate, in 1.2 billion years the moon will no longer be able to completely block the sun and only annular eclipses will be possible.
Learn more about
eclipses
on the NPS page.
Last updated: September 2, 2023