For Teachers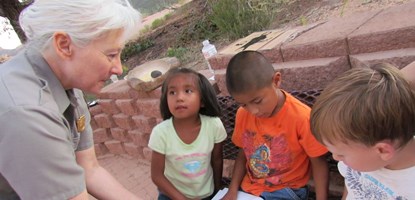 PLANNING A FIELD TRIP TO CAPITOL REEF?
The following suggestions will help you to plan a safe and rewarding educational experience at Capitol Reef. Please review the following with your group. Have a safe and enjoyable visit!
VISITOR CENTER
The park visitor center has museum exhibits and an eighteen minute orientation movie.
CULTURAL RESOURCES
Be sure to visit the one-room Historic Fruita Schoolhouse, the Behunin Cabin, and the Fremont Culture Petroglyphs, located along Utah Highway 24. The Historic Gifford Homestead, located on the Scenic Drive, is open seasonally. A pioneer Blacksmith Shop exhibit, located on the Scenic Drive near the picnic area, is also open to the public.
RESTROOMS
Facilities are located at the visitor center, picnic area, some trailheads, at the park's east entrance along Utah Highway 24, and in the campground (please do not trespass through campsites). There are no facilities on the trails, so use the restrooms before you hike.
PICNIC AREA
The picnic area, located on the Scenic Drive south of the visitor center, is open to all visitors. Picnic tables, metal grills, a drinking fountain, and shaded grassy areas are available. Parking is generally adequate for busses.
PRESERVATION
Capitol Reef National Park has been set aside by Congress to be preserved for future generations because of its valuable resources. Inform your students that everything in the national park is protected, from rocks to wildflowers to wild animals. Respect wildlife. Stay on designated trails only. Dispose of trash properly. Leave no trace.
SPECIAL RESOURCE CONCERNS
Biological soil crust is vital to the health of desert ecosystems, and one misstep kills decades of growth. Take time to read the display in the visitor center and keep your students single-file on the trails. Mule deer offer students an exciting opportunity to see large wild animals up close. Help them to maintain a healthy respect for people; keep a 30 foot (9.1 m) distance and do not feed or touch any animal in the park. Collecting of any kind is prohibited in the park. Pretty rocks, wildflowers or objects are not souvenirs, but treasures for the next person to enjoy and learn from. Leave the park in the same or better condition than you found it.
FEE WAIVERS
Educational Group Fee Waivers are available to groups traveling the Scenic Drive for educational purposes. Applications must be submitted two weeks prior to your visit. If you have any questions, please contact the Fee Office during normal business hours at (435) 425-3791.


Last updated: December 12, 2017