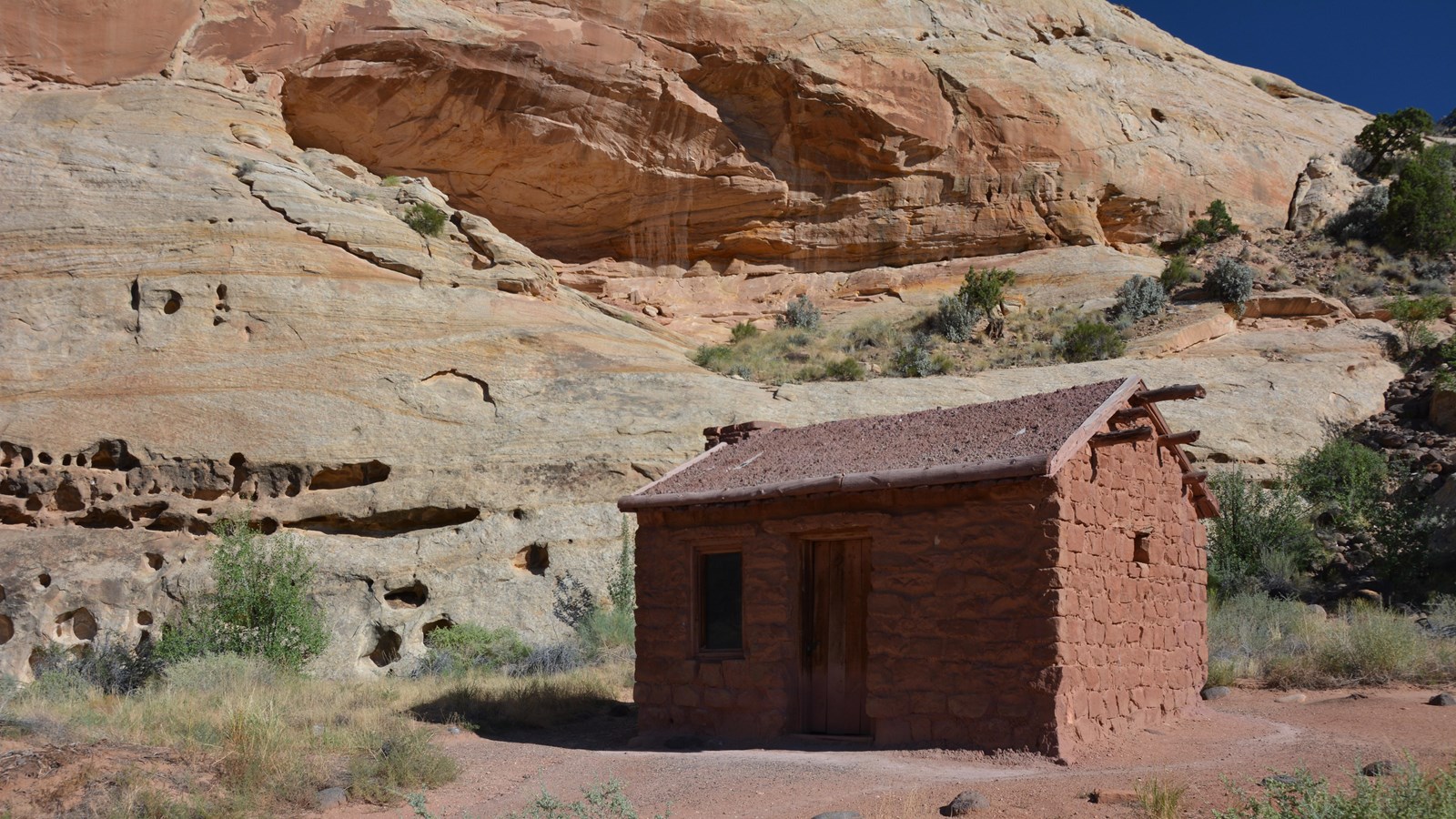 Location:
Fruita District
Significance:
1883 sandstone cabin
Designation:
National Register of Historic Places, 1999
Historical/Interpretive Information/Exhibits, Parking - Auto, Scenic View/Photo Spot
The Behunin Cabin can be seen from an unpaved, dirt parking lot off State Route 24, which is suitable for 2WD vehicles and RVs. There is limited parking for large vehicles. 
Tabitha Jane and Elijah Cutler Behunin were two of the 
early settlers
 to file a homestead claim around the Fremont River and Sulphur Creek. Even at this time, the Latter-Day Saint pioneers recognized that this land was useful for "ordinary farming, [but] most valuable for
fruit raising
."
Elijah and his family of 15 built this small sandstone cabin near the
Fremont River
in 1883, but only lived in it for about a year. It was not an easy place to homestead. The crops they planted were washed out by flash floods, and the cabin was only large enough for Elijah, Tabitha Jane, and their youngest children. The older boys slept in a sandstone alcove, while the older girls slept in a covered wagon box.
After moving east to Caineville, the family moved back to the Capitol Reef region by 1893. They settled in the budding community of 
Junction (later renamed Fruita),
 where daughter 
Nettie
 began teaching her younger siblings. By 1896, the community worked together building a 
one-room schoolhouse
 to continue education opportunities for the children.
Elijah, his sons, and other men in the community worked hard to keep a wagon road open through Capitol Gorge and up to Fruita. Summer thunderstorms, flash floods, and winter snow often made the route impassable. After about ten years, wanderlust struck Elijah, and he went east again with his family, settling in Notom. His oldest daughter, 
Mary Jane
, stayed behind in Fruita, with her husband Nels Johnson, who is considered to be the very first settler in the area.
From the National Historic Register: "
The abandonment of the Behunin Cabin after only one year of occupation testifies to the tenuous nature of settlement patterns in the American West and the mobility demanded by environmental unpredictability."
Last updated: March 24, 2022