Things To Do
A wealth and variety of activities awaits you at Cape Lookout National Seashore. From birding, to camping, to fishing, to learning about the rich history of Cape Lookout Light Station -- there is something for everyone!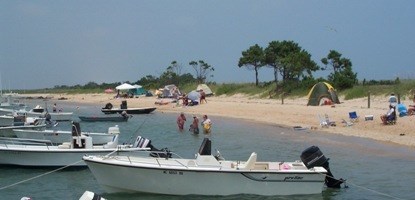 If you have four hours or less...
On Harkers Island you can visit Harkers Island Visitor Center where you can explore the exhibits, watch the park film, walk the nature trails, and more.
In the lighthouse area you can sunbathe on the beach, swim in the ocean, tour the Keeper's Quarters Museum, visit the Light Station Visitor Center, or climb the lighthouse.
On Shackleford Banks you can go swimming, shelling, sunbathing, and enjoy the beach.
In Portsmouth Village you can take a guided tour of the village, visit the Theodore & Anne Salter House and Visitor Center, explore the exhibits, and go shelling or swimming or sunbathing.
You can also become a Junior Ranger or Junior Ranger Adventurer by picking up a booklet at any of the Visitor Centers.
If you have an entire day...
You can also search for horses on Shackleford Banks (in your own group or on a ranger guided tour), walk or ride down to the point of Cape Lookout to watch the nesting shorebirds or find larger shells, plan a short kayaking or canoeing trip, go fishing, or search for wildlife.
If you have more than one day...
Tent camping or renting a "rustic" cabin in the park can be the perfect way to get away from it all. Our dark skies also provide a wonderful chance to go stargazing. You can also plan a longer canoe or kayak trip or bring a four wheel drive vehicle so you can tour more of the park.
Please remember: only the Harkers Island destinations can be reached by vehicle. All other locations must be accessed by personal boat, an authorized private ferry, or through an authorized commercial visitor service company.


Last updated: August 8, 2018