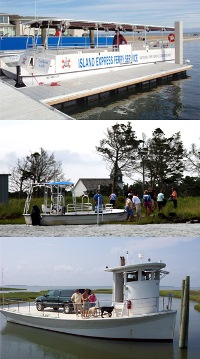 Getting to Cape Lookout National Seashore can be an adventure! Several styles and sizes of boats are used as ferries with 16 passenger flat bottom skiffs predominating.
There are three main types of ferries which can be seen in the photo to the left. Large passenger ferries (top) operate out of Beaufort and Harkers Island. Small passenger ferries (middle) are used by the services from Ocracoke to Portsmouth and from Beaufort and Harkers Island.
Ferry companies in Davis, NC, and Atlantic, NC, use small vehicle ferries (bottom) to reach the cabin camps.
Different companies may operate different styles of these ferries.
Passengers are generally delivered directly onto the sound-side beach. The larger passenger ferries, some carrying up to 49 passengers, and vehicle ferries make use of the docks. All are open to the elements. On windy or rainy days be prepared to get wet.