Beach Driving


A vehicle can be a great way to reach a remote camping spot or to go surf fishing or shelling. But unless it is driven carefully, a vehicle can also cause damage to the environment. The required ORV Beach Driving Permit helps beach drivers maintain a safe, beautiful seashore environment now & in the future. Please ride and drive responsibly so the park can continue to provide maximum recreation with minimal restriction.
Unlike other area beaches, Cape Lookout does not have any paved or hard-surface roads within its boundaries. All driving within the park is done on sand.
Driving Areas
Vehicles are allowed on two of the barrier islands that comprise Cape Lookout National Seashore: North Core Banks and South Core Banks. Both of these islands can only be reached by ferry. Contact the ferry directly for ferry rates and to make reservations.
Driving is allowed on the open oceanside beach, seaward of the dunes and down to the tide line as well as on the trail behind the dunes called the "back road." No vehicle may be driven on or over the dunes or on the soundside beach.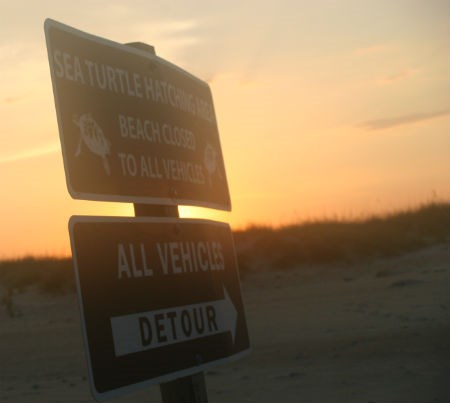 During certain times of year, parts of the beach will be closed to vehicle traffic in order to protect bird and turtle nests. The protected areas and detours around the protected areas are marked.
Other areas will have reduced speed limits to allow visitors to spot and avoid bird chicks in the area.
There is a map in the Beach Driving brochure which shows ramps from the back road to the beach and permanent closures. Drivers are responsible for knowing where temporary wildlife protection zones are as well. Zone locations are updated on the park's Wildlife Protection Zone page and on the park's social media pages on Facebook and Twitter.
Read our Know Your Signs page to get better acquainted with these and other signs. Closures are enforced.

Off-Road Driving
Although Cape Lookout National Seashore allows vehicles to drive off-road, it is not an "off-road park." Driving is allowed as a means of transportation only and is restricted to the open oceanside beach seaward of the dunes and on marked trails. Speed limits are posted and enforced.

All drivers must obtain the ORV Beach Driving Permit and have the decal on their vehicle before they can drive on the islands. The Driving Permit must be purchased online at recreation.gov before coming to the park. For more information on obtaining the Beach Driving Permit and its window decal, check out the ORV Beach Driving Permit page.
Licensing Requirements
All vehicles must have a current state-of-origin registration, safety inspection and valid license plate at all times (the same as if operating on North Carolina highways).
All drivers, including those operating an ATV, must be at least 16 years of age.
All drivers, including those operating an ATV, must possess a valid driver's license.
Types of Vehicles Allowed
Four-wheel drive is highly recommended for the islands as two-wheeled drive and all-wheel drive (AWD) vehicles are more easily stuck in the soft sand areas of the beach and sand trails. Even with a four-wheel drive vehicle, it is also advisable to lower the tire pressure to 20 psi or lower. See our tips on beach driving for more information.
All-terrain vehicles (ATVs) and small utility vehicles (UTVs) can also be driven in the areas designated for vehicles. To ensure a safe and enjoyable visit to our beaches, check out the ATV riding rules before you come. These are enforced.
For Young Riders (under age 16) of an ATV or UTV and their parents:
You must be at least 16 and have a valid license before you can drive an ATV or UTV in the park. (A learner's permit is not acceptable.)
Although North Carolina law allows riders under 16 to drive appropriately small-sized ATVs, this is not permitted while in Cape Lookout National Seashore.
Motorcycles, including dirt bikes, are prohibited on all barrier islands within the park. E-Bikes cannot be purely motor driven -- motors can only be used for pedal assist. (see more E-bike information below)

Bicycles -- may be ridden only on the two main barrier islands, North Core Banks and South Core Banks. Bicycles, of all kinds, are not permitted on Shackleford Banks. Bicycles are permitted only on the open ocean beach (seaward of the dunes) and marked vehicle trails such as the one lane sand trail known as the "back road" running behind the dunes on North and South Core Banks. They must adhere to the rules covering closed areas, including the areas temporarily closed as Wildlife Protection Zones and the permanently closed areas of the pedestrian beach in front of the lighthouse and Power Squadron Spit. Bicycles are not to be ridden on the boardwalks in the area of the lighthouse. NOTE: Our beach sands vary widely in their suitability for riding a bicycle. Wide tires, such as on mountain bikes, beach cruisers or "fat boy" tired bikes, are highly recommended. Most bicyclists who have tried their luck riding on our beaches have ended up pushing or packing their bicycles in disgust back to the ferry.

E-bikes -- E-bikes which use the power provided by an electric motor to only assist pedal propulsion (a Class-1 e-bike) are allowed on North and South Core Banks in Cape Lookout National Seashore where traditional bicycles are allowed. E-bikes are not allowed where traditional bicycles are prohibited, including the boardwalks around the lighthouse and wilderness and proposed wilderness areas such as Shackleford Banks. Except on park roads on Harkers Island and other locations where the use of 2-wheeled motor vehicles by the public is allowed, e-bikes which may be ridden without pedaling (class-2 and class 3 e-bikes) are not permitted in Cape Lookout National Seashore.
Long-term Parking
There are three public parking lots for vehicles being left for long periods on the islands: in the Long Point cabins (North Core Banks), Great Island cabins (South Core Banks), and Lighthouse Complex (South Core Banks) areas.
All vehicles, ATVs, and trailers left unattended for over 24-hours must be parked in an official, long-term parking area and have a valid Cape Lookout long-term parking permit.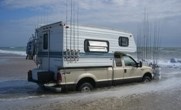 Towing
Park Rangers are here to assist you, but they are not permitted to pull or tow other vehicles.
You are responsible for any needed towing. Commercial towing services are extremely limited and very costly.
Most roadside assistance memberships do not cover problems in off-road areas. The beaches of Cape Lookout are definitely considered "off-road."
See our tips for beach driving for information to help prevent these situations.
Visit our keyboard shortcuts docs for details
Duration:

3 minutes, 49 seconds
Information on safely driving on the beaches and sand trails of the barrier islands within Cape Lookout National Seashore. This video must be viewed as part of obtaining an ORV driving permit for the barrier islands within the park.
Last updated: October 20, 2023