Ranger Programs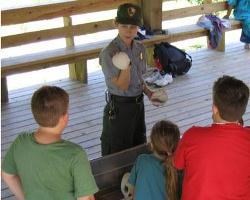 What happened to the first Cape Lookout lighthouse? How do the wild horses survive on a barrier island? What is a lightering port? Why do most sea turtles lay their nests at night? What was life like on the Outer Banks in wartime?
Discover the answers to these questions and many more during an interpretive talk or on a guided walking tour. Join a park ranger or volunteer for an insider's view of Cape Lookout National Seashore. All programs are free of charge.
Programs will run on schedule unless there is inclement weather. Additional programs may be offered. Check at one of the Visitor Centers or call 252-728-2250 for a complete schedule and more information.
For information on special event programs such as Horse Sense & Survival Guided Tours or the Evening at the Cape please visit the Special Events page.
Summer 2020 Schedule
Harkers Island Visitor Center | Cape Lookout Lighthouse Area
Beaufort Visitor Information Center & Shackleford Banks | Portsmouth Village
Harkers Island Visitor Center
Ribbon of Sand [film] (Daily, upon request, 26 minutes)
Through the imagery of this film, including spectacular aerial and underwater photography, you will travel through the Cape Lookout ecosystem from the sound side marshes and estuaries to the thin protective line of islands of the Outer Banks and the ocean depths beyond. For your convenience this film is open captioned. Assistive listening devices are available for enhanced listening and audio description.
Cape Lookout Lighthouse Area
Programs are offered from Memorial Day weekend to Labor Day weekend
Programs cancelled due to Covid-19 restrictions until further notice
Beaufort Visitor Information Center
Programs offered on select dates,
Note: ferry fees apply to Rove with a Ranger

Programs cancelled due to Covid-19 restrictions until further notice
Portsmouth Village
Programs are offered June to September

Programs cancelled due to Covid-19 restrictions until further notice
Last updated: June 3, 2020