Beach camping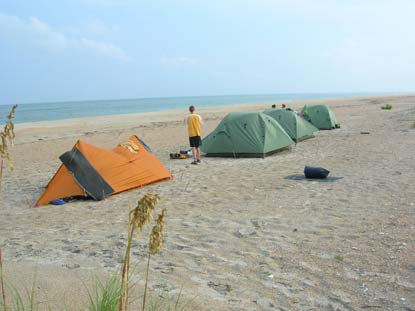 All camping within the park is primitive beach camping: there are no designated campgrounds. Permits are not generally required for camping, but overnight groups of 25 or more are required to obtain a Special Use Permit. Permit applications can be downloaded from the Camping Permits webpage. Camping is limited to 14 consecutive days.
Tent and vehicle campsites must be at least 100 feet from wells, shade shelters, bulletin boards, docks or other structures and at least 100 yards from any cabin or house. Camping is not permitted in long term parking areas, at the Harkers Island Administrative Site, in Portsmouth Village, in the Cape Lookout Light Station complex, in the Cape Village (including the Cape Lookout Coast Guard Station), or on property held under private lease. Because it disturbs vegetation, do not camp on top of the dunes.

Visitors are welcome to camp with their vehicles, but vehicles must be kept on the oceanside beach seaward of the primary dunes, not between or on top of dunes. Drivers must follow the regulations for off-road vehicles (ORVs) outlined on the Beach Driving section of the website. Vehicles are not permitted on Shackleford Banks. Parking permits are required for vehicles located in long-term parking lots. No vehicle may be left unattended for over 24 hours without a permit.
Facilities and Amenities
There are no camp stores within the park. Campers should bring all the food and fresh water they will need during their visit. During the summer months, water is available in a hand pump near the lighthouse and a limited amount of iodine treated well-water is available at the hand pump located near the point of the cape. Do not depend on this water as your primary source.
There are restrooms open seasonally in areas of high visitation including the lighthouse area on South Core Banks, Wade's Shore on Shackleford Banks, and Portsmouth Village on North Core Banks. Restrooms and public shower facilities are available seasonally in the Great Island and Long Point cabin areas. In other areas, human waste should be buried above the high tide line in a location where other people will be unlikely to walk or camp. Dump stations for vehicle campers are located in the Great Island and Long Point cabin areas and near the point of the cape.
There are no trash cans on the islands. Visitors must take all trash their trash out of the park when they leave. Do not bury any trash as the sand is constantly moving and buried trash re-surfaces quickly. For more information on the Trash Free Park program, visit the Leave No Trace webpage.
There are no Recreational Vehicle (RV) hookups available within the park. In addition, there are no roads on the islands and all driving is in loose sand, which generally makes the park unsuitable for RVs.
Campfires and Grills
Open campfires can only be built below the high tide line. Visitors may want to check the tide predictions in advance to determine when they can build fires. Loose dead wood on the ground within 200 feet of the shore may be used for campfires. Wood from shipwrecks or historical or archeological sites and wood from standing trees may not be used. Campers are encouraged to bring their own wood because the amount of wood available in the park is extremely limited.
Cooking receptacles which are enclosed on the bottom and sides, such as grills, are permitted in all areas of the park except for Portsmouth Village, the Cape Lookout Village, on cabin or house porches, and wooden structures (including boardwalks) associated with the lighthouse. These grills should be used carefully and with consideration for the surrounding vegetation. All food waste and trash must be taken out of the park: there is no garbage pick-up.
Additional Information
Park and federal regulations on camping and other activities can be found in the Rules and Regulations section of the Laws and Policies webpage.

It is recommended that tent campers use tents with insect netting and bring tarp or a rain fly and which are able to withstand strong winds.
Longer tent stakes, about one foot in length, are better suited to anchor tents in the soft sand and high winds in the park.
Weather conditions can change rapidly on the islands. Information and weather predictions can be found on the Weather webpage.
Be aware of the predicted tide times and heights. More information can be found on the Weather webpage.
Sunscreen and insect repellant should be carried with you. Biting insects such as mosquitoes, greenhead flies, ants, deerflies, and gnats can be found throughout the seashore during the months of May through October. Chiggers and ticks can also be found.
Sturdy walking shoes are recommended for walking in the soft sand.
Kayakers and canoers who are camping in the park are asked to leave a float plan with the park. More information is available on the Kayaking and Canoeing webpage.
Pets are required to be on leashes at all times.
Other Camp Sites
Arriving late? Winds too strong? Need a place to stay on the mainland?
Check out the private campgrounds listed on the Crystal Coast Tourism Authority's website and the campgrounds in the Croatan National Forest.