Lodging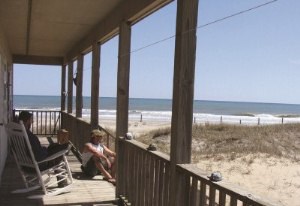 The rustic, wooden cabins at Long Point and Great Island offer beachfront views of the pristine, undeveloped barrier islands of Cape Lookout National Seashore. The cabin camps can only be reached by boat, adding an element of both privacy and adventure. The park's sandy beaches are prime locations for fishing, shelling, swimming, birding, and simply relaxing.
Season Dates | Reservations | Cabin Facilities
Rental Rates & Camp Maps | Office Hours & Numbers
Additional Information | Photo Gallery
Season Dates
2019 Season -- Reservations are now being accepted on recreation.gov for both Long Point and Great Island Cabins. Cabins will be open from March 15, 2019 - November 30, 2019

NOTE: Due to the amount of damage inflicted by Hurricane Dorian, Long Point Cabins will be closed for the remainder of the 2019 season.
Reservations
Reservations for cabins at Cape Lookout National Seashore can be made one of two ways:
Online at Recreation.gov
By phone at 877-444-6777 (TDD: 877-833-6777)
Reservations are accepted by phone from 10:00 AM to midnight EST March through October and 10:00 AM to 10:00 PM EST November through February.
Please Note: Customers who cancel a cabin reservation
less than 14 days before
the arrival date will pay a
$10.00 service fee AND forfeit the first night's use fee
. Refunds resulting from storm closures will be handled on a case by case basis.

Great Island Cabins
Long Point Cabins
Location
South Core Banks
North Core Banks (Portsmouth Island)
Ferry leaves from ...
Davis, NC
Atlantic, NC
Number of Cabins
23 cabins
20 cabins
Beds per Cabin
4-12 bunk beds/cabin
6 bunk beds/cabin
Size
288 to 960 sq ft each
About 500 sq ft each
Cabin Type
Individual. Retangular.
Duplex. Octagon or Retangular.
Porches
Private porch
Porch shared by both cabins in the duplex
Accessibility
Cabin 2 is accessible.
Cabins 9 & 10 are accessible.
There are no hard surface roads or walkways.
Electricity
Wired for 110 volt electricity, but visitors must supply the generator. Generators should be under 5500 watts to prevent tripping the circuit breakers.
Electricity provided
Air Conditioning
No A/C
A/C in cabins 3, 4, 5, 6, 7, & 8
No A/C in cabins 1-2 or 9-20
Ice and Gasoline
Ice and gasoline can be purchased at the cabin office -- credit cards preferred.
Fuel sold is unleaded gasoline and

"non-highway" diesel.
Other Amenities
Each cabin includes a hot water heater, private bathroom with shower, table and chairs, kitchen with propane oven/stove (propane included), bunk beds with mattresses, and a charcoal grill.
Not Included
Cabins do NOT include:
linens, bedding, cookware, or a refrigerator
Rental Rates and Cabin Maps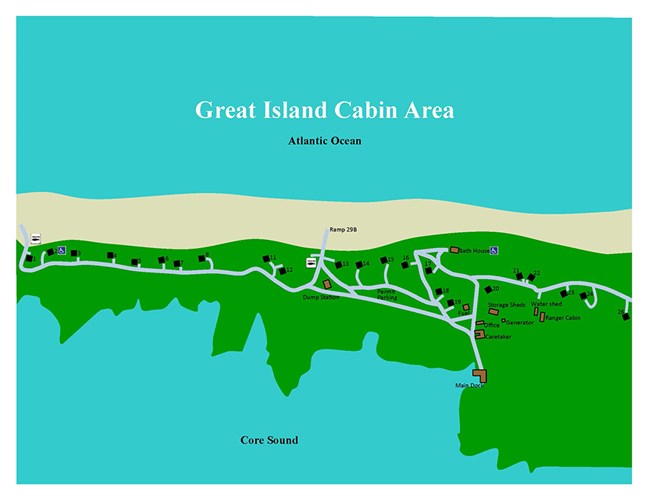 Great Island Cabins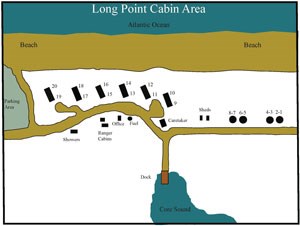 Long Point Cabins
Cabin Offices
Office Hours 8:00 AM to 3:00 PM, 7 days per week during the open season
Great Island Cabin Information 252-725-0256
Long Point Cabin Information 252-732-4574
General/Off-Season Information 252-728-2250 ext. 0
Check In / Check Out
Pick up the keys for your rental cabin at the office located in the cabin area.
Check In Time 1:00 PM
Check Out Time 10:00 AM
Note: if arriving after 3:00 PM, call the Cabin Office in your cabin area ahead of time to arrange for your keys and access to your cabin after the office closes.
Additional Information
Ferry Contact Information
Phone numbers for the ferries to the cabins can be found on the Authorized Ferry Services page.
What to Bring
Linens and bedding
Cookware
Coolers (cabins do not have refrigerators)
Food and food storage
First-aid supplies
Flashlights or gas lanterns, if desired
Generator, if desired (Great Island only), less than 5500 watts.
Insect repellent
Sunscreen
Pets in Cabins
Visitors who are renting one of the cabins may keep their pet in the cabin as long as the pet is kept in a crate. Pets may also be kept tied up on the cabin porch provided they are not left unattended.
Pets are not allowed inside any other buildings in the park.
Vehicles on the Islands
All vehicles on the islands must obtain the ORV Education Certificate. Visitors renting a cabin will have an unpaved parking area near their cabin with space for two vehicles. Additional parking is available with a permit in the cabin area's unpaved long-term parking lot.
There are no roads in the national seashore: all driving is done on loose sand. Four-wheel drive is highly recommended. Information on the ORV Education Certificate and driving on the islands can be found on the Beach Driving page.
Beach Camping
Primitive beach camping is also available. For more information, please visit the Beach Camping page.
Last updated: October 24, 2019