Wildlife Management
The islands are more than a place to enjoy a warm summer's day. For sea turtles and many shore birds, the beaches are a nursery for their young. Some endangered plants, such as Seabeach Amaranth, only grow on specific areas of the dunes. The wild horses of Shackleford Banks depend exclusively on the resources of their island to survive.
The National Park Service must balance the needs of those who use the islands for recreation with the needs of those who use them for survival. For this reason, the park's resource management staff spends most of the spring and summer monitoring and marking the areas needed by nesting shore birds and sea turtles as well as endangered plant species. The Shackleford horses are monitored all year.
Below are links to reports that tell us how we are doing in sharing the islands with those who need them for survival. The reports are available in pdf format and are listed in tables. This part of the website is best accessed by computer rather than mobile device or screen reader.

Note: We're sorry, but the report files are being updated and are not currently available. We will repost them soon. Contact us for more information.

Bird Counts & Monitoring Reports
| | | |
| --- | --- | --- |
| Red Knot | Wilson's Plover | Colonial Nesting Waterbirds |
| 2017 (pdf, 810 Kb) | 2017 (pdf, 23 Kb) | 2017 (pdf, 907 Kb) |
| 2016 (pdf, 560 Kb) | 2016 | 2016 |
| 2015 (pdf, 575 Kb) | 2015 (pdf, 17 Kb) | 2015 (pdf, 325 Kb) |
| 2014 (pdf, 552 Kb) | 2014 (pdf, 38 Kb) | 2014 (pdf, 484 Kb) |
| 2013 (pdf, 680 Kb) | 2013 (pdf, 17 Kb) | 2013 (pdf, 548 Kb) |
| 2012 (pdf, 509 Kb) | 2012 (pdf, 43 Kb) | 2012 (pdf, 289 Kb) |
| 2011 (pdf, 409 Kb) | 2011 (pdf, 43 Kb) | 2011 (pdf, 331 Kb) |
| 2010 (pdf, 240 Kb) | 2010 (pdf, 15 Kb) | 2010 (pdf, 311 Kb) |
| 2009 (pdf, 383 Kb) | 2009 (pdf, 10 Kb) | 2009 (pdf, 441 Kb) |
| 2008 (pdf, 713 Kb) | 2008 (pdf, 14 Kb) | 2008 (pdf, 167 Kb) |
| 2007 (pdf, 506 Kb) | 2007 (pdf, 29 Kb) | 2007 (pdf, 170 Kb) |
| 2006 (pdf, 312 Kb) | | |
Nesting Success Reports
Sea Turtles
American Oystercatchers
Piping Plovers
2017 (pdf, 1.08 MB)
2017 (pdf, 2.14 MB)
2017 (pdf, 4.05 MB)
2016 (pdf, 1.07 MB)
2016 (pdf, 1.27 MB )
2016 (pdf, 1.64 MB)
2015 (pdf, 1.17 MB)
2015 (pdf, 1.69 Kb)
2015 (pdf, 1.47 MB)
2014 (pdf, 1.08 MB)
2014 (pdf, 843 Kb)
2014 (pdf, 3.87 MB)
2013 (pdf, 1.01 MB)
2013 (pdf, 720 Kb)
2013 (pdf, 1.38 MB)
2012 (pdf, 552 Kb)
2012 (pdf, 590 Kb)
2012 (pdf, 3.6 MB)
2011 (pdf, 1.15 MB)
2011 (pdf, 653 Kb)
2011 (pdf, 1.27 MB)
2010 (pdf, 1.10 MB)
2010 (pdf, 636 Kb)
2010 (pdf, 1.2 MB)
2009 (pdf, 1.13 MB)
2009 (pdf, 833 Kb)
2009 (pdf, 5 MB)
2008 (pdf, 1.07 MB)
2008 (pdf, 561 Kb)
2008 (pdf, 12.7 MB)
2007 (pdf, 566 Kb)
2007 (pdf, 583 Kb)
2007 (pdf, 9.85 MB)
2006 (pdf, 513 Kb)
2006 (pdf, 246 Kb)
2006 (pdf, 277 Kb)
2005 (pdf, 511 Kb)
2005 (pdf, 240 Kb)
2005 summary (pdf, 17.6 Kb)
2004 (pdf, 458 Kb)
2004 (pdf, 326 Kb)
2004 (pdf, 232 Kb)
2003 (pdf, 370 Kb)
2003 (pdf, 936 Kb)
2003 (pdf, 208 Kb)
2002 (pdf, 366 Kb)
2002 (pdf, 313 Kb)
2002 (pdf, 167 Kb)
2001 (pdf, 365 Kb)
2001 (pdf, 234 Kb)
2001 (pdf, 186 Kb)
2000 (pdf, 364 Kb)
2000 (pdf, 33 Kb)
2000 (pdf, 116 Kb)
1999 (pdf, 98 Kb)
1999 (pdf, 47 Kb)
1998 (pdf, 27 Kb)
Endangered Plant Species Reports
Sea Beach Amaranth
2014 (pdf, 613 Kb)
2013 (pdf, 556 Kb)
2012 (pdf, 1.5 MB)
2011 (pdf, 554 Kb)
2010 (pdf, 538 Kb)
2009 (pdf, 278 Kb)
2008 (pdf, 273 Kb)
2007 (pdf, 335 Kb)
Herd Findings Reports
2018 (pdf, 120 kb)
2017 (pdf, 395 kb)
2016 (pdf, 323 kb)
2015 (pdf, 508 kb)
2014 (pdf, 496 Kb)
2013 (pdf, 263 Kb)
2012 (pdf, 179 Kb)
2011 (pdf, 380 Kb)
2010 (pdf, 381 Kb)
2009 (pdf, 49 Kb)
2008 (pdf, 90 Kb)
2007 (pdf, 28 Kb)
2006 (pdf, 38 Kb)
2005 (pdf, 39 Kb)
2004 (pdf, 67 Kb)
2003 (pdf, 67 Kb)
2002 (pdf, 38 Kb)
2001 (pdf, 83 Kb)
2000 (pdf, 39 Kb)
1999 (pdf, 49 Kb)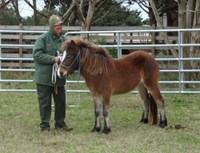 Research Reports
Nutrient Composition and Selection, 2009 (pdf, 742 Kb)

New additions to the Ocracoke Pony Herd (Cape Hatteras National Seashore), 2009 (pdf, 21 Kb)
Last updated: July 3, 2019