Winter Outdoor Activities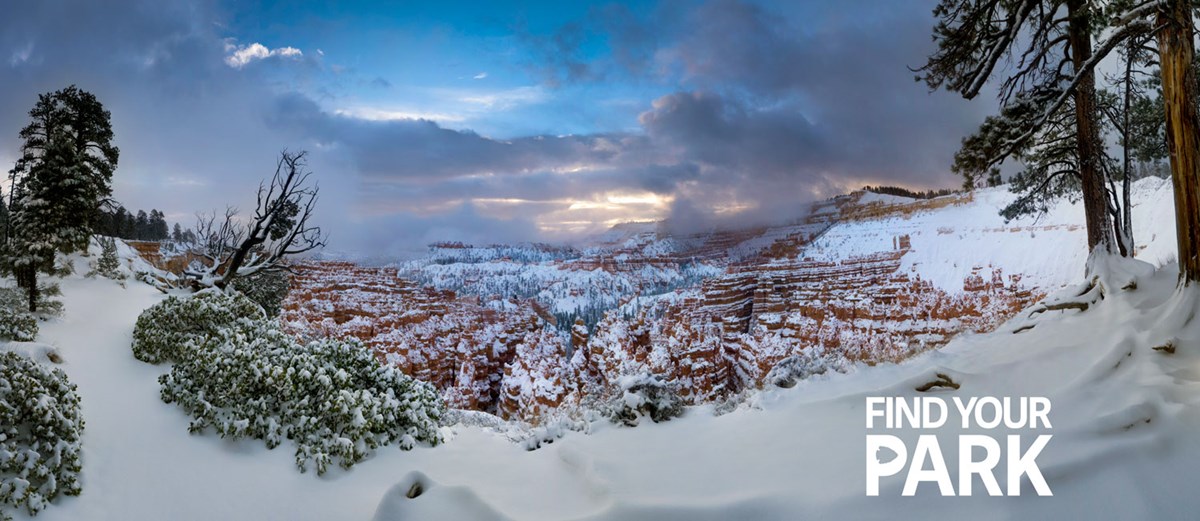 Bryce Canyon is even more beautiful in the winter! In the cold, crisp air, it's thrilling to hop in and out of the warm car at the various overlooks to see the striking contrast of white snow, red rock, and blue sky. Feeling more adventurous? Bryce offers many opportunities to enjoy all of its snowy splendor. BEFORE setting out on one of the adventures described below, stop at the Bryce Canyon Visitor Center to get up-to-date weather and safety information.

One of the best times to visit in the colder months is during the Bryce Canyon Winter Festival. This annual event is typically held over President's Day Weekend. Please check back for future updates regarding next year's event.
ROAD CLOSURES:
Fairyland Road and Paria View Road are intentionally left unplowed in winter to provide a skiable/snowshoeable surface when snowpack is minimal. After winter storms, the road to the southern and higher elevation overlooks may be closed for several hours or even overnight while snowplows work to reopen that half of the park. However, the roads and parking lots which provide access to the four Main Amphitheater overlooks (Bryce, Inspiration, Sunset, and Sunrise Points) are plowed immediately after winter storms.

TRAIL CONDITIONS:
Snow is ONLY cleared from the sidewalks at the overlooks and the paved section of the Rim Trail from Sunset to Sunrise Point. The Rim Trail from Bryce Point to Inspiration Point is closed to all traffic, including skis and snowshoes. Snow and mud create slippery, hazardous conditions on all trails, especially those leading down into the Main Amphitheater. Waterproof hiking boots or snow boots are essential if you plan to hike. Additional traction devices (see below) are often necessary to traverse the most popular trails.

HARD TRAIL CLOSURES:
Rockfalls are a part of life in Bryce's constantly changing landscape. Due to the high risk of rockfall events, the Wall Street section of the Navajo Loop Trail is routinely closed in the winter and early spring. The eastern side of the trail typically remains open. The Peekaboo Loop Connector Trail descending from Bryce Point is very steep and often closed due to slick conditions and slide potential. Other trails may be closed as required for visitor safety. Check the Alerts section of this page for current conditions.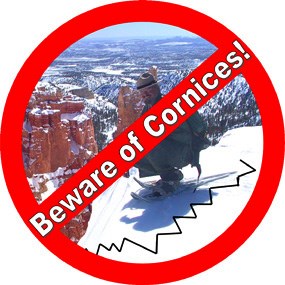 Prohibited Activities
Skiing, snowboarding, sledding, etc. off of the rim and into the canyon is illegal due to the highly dangerous nature of such activities and the damage to the resource they can cause. The daily freeze-thaw cycles that form our unique hoodoos also make steep sections of the canyon susceptible to slides and rockfalls.
Though we've never had a fatality from such an event, visitors who ignored this warning and became victims of mud or snow slides have been injured and badly traumatized by the experience. Avoid these hazards by staying on designated trails and NOT skiing (or sliding) off of the canyon rim!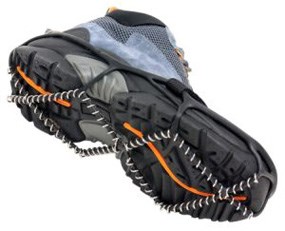 Winter Hiking
After a big snowfall most of the park's day-hiking trails require snowshoes. However, after a few days of melt, and with continued use, the trails become so well packed and icy that snowshoes are no longer effective to provide traction and stable footing.
For much of the winter the most popular trails are so icy that steep sections cannot be safely traversed without some sort of additional traction device for your hiking shoes or boots. Mountaineering crampons or other, lighter options which fasten over your winter footwear like the one pictured here work well.
Traction devices may be available for purchase at the Bryce Canyon Natural History Association's bookstore at the Visitor Center.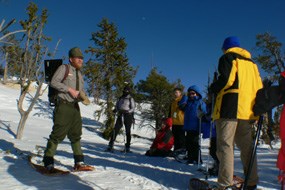 Snowshoeing
Snowshoeing is allowed throughout the park. Though snowshoes make it possible to travel through deep powdery snow, snowshoeing is still a highly strenuous activity.
Don't have your own snowshoes? The Bryce Canyon Snowshoe Program is designed for all levels of experience, from beginner to expert. These Ranger-guided outings introduce visitors to the wonder of Bryce Canyon in the winter. Snowshoes and poles are available for FREE for those joining Bryce Canyon's Snowshoe Rangers (when snow depth and staffing are sufficient). Please note that snowshoes are only provided for participants of ranger guided snowshoe activities and are not available at other times.
| | |
| --- | --- |
| Time | Varies, usually 2 hours |
| Duration | Approximately 1 mile (1.6 km) |
| Attendance Fee | FREE |
| Required Equipment | Snowshoes, Poles (Will Be Provided) |
Registration is required as group size is limited and hikes are subject to cancellation. When snow depth and weather permit, sign-up will be offered at the Visitor Center the day of the program beginning at 8 a.m. and continuing until full. No advance sign-up or reservations are available.
Wear Layers of Clothes
Gloves
Hat
Be Properly Hydrated
Those with only tennis shoes, dress shoes, etc. will not be allowed to participate.
NOTE: You must provide your own waterproof hiking boots, or ideally snowboots, to ranger led programs.
Note: If you wish to snowshoe at Bryce Canyon but do not have your own equipment & cannot participate in one of our guided hikes, snowshoes are available for rent outside the park in Bryce Canyon City.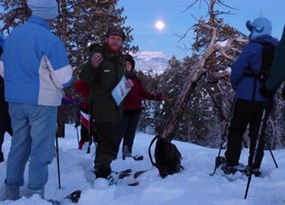 Ranger Guided Full Moon Snowshoe Hikes
November through March when snow depth exceeds 12" - 18", we offer full moon snowshoe hikes. Snowshoes and poles are provided but you must provide your own snow boot or waterproof hiking boots. (Click here for more info and moon hike schedule)
For more information, contact the Visitor Center at (435) 834-5322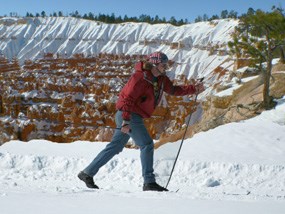 Cross-country Skiing
Another great way to explore Bryce Canyon is on cross-country skis. Though it is illegal to ski off of the rim into the canyon, you can enjoy a variety of routes above the rim. These include sections of the Rim Trail along the edge of the Main Amphitheater, the Bristlecone Loop Trail; Paria Ski Loop; and the unplowed Paria View and Fairyland Point roads.

Cross-country skiing opportunities are abundant just outside the park, too! On rare occasions when the snow depth allows, you can ski into the bottom of the Bryce Amphitheater from the outskirts of the town of Tropic. Another nearby favorite that allows for skiing among the hoodoos is the Red Canyon Bike Path. Bryce Canyon City also maintains many miles of groomed ski trails. If you don't have your own skis, cross-country skis as well as snowshoe equipment can be rented in Bryce Canyon City.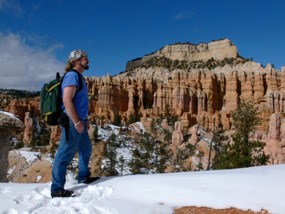 Winter Backpacking
Traversing Bryce Canyon's backcountry is challenging year-round. Winter conditions include deep snow and sub-zero temperatures. Finding and following the trail can be extremely difficult in deep snow. Losing the trail makes it difficult to find the key routes back up to the rim and the Rainbow Point Road. For this and other reasons (open fires are prohibited, the Rainbow Point Road may be closed for several days after a big storm, etc.) winter backcountry permits are issued to only the most experienced and well prepared adventurers. Ski and/or snowshoe equipment is highly recommended. Click here for more information about backcountry camping.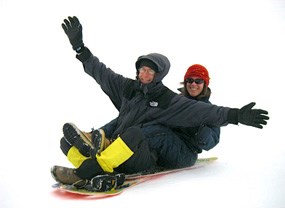 Sledding

Although sledding is allowed above the canyon rim (sledding off of the canyon rim being strictly prohibited), there are very few suitable places within the boundaries of Bryce Canyon National Park to enjoy sledding. Local residents prefer to do their sledding in nearby Red Canyon.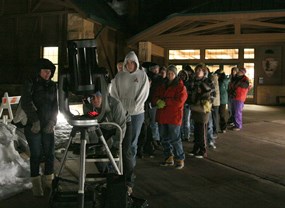 Winter Astronomy
Long winter nights show off Bryce's beautiful dark skies to perfection. when staffing and weather conditions permit, we may offer winter Astronomy Programs. For availability, check at the Visitor Center upon arrival. For safety reasons, inclement weather and/or air temperature/wind chill below 10° F (-12° C) may force cancellation of the event.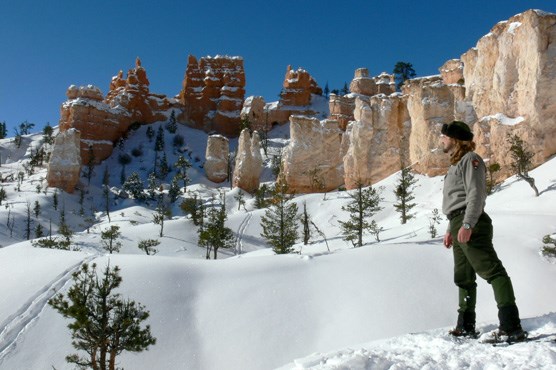 Last updated: October 19, 2020