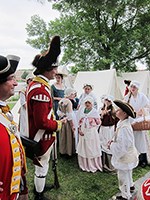 June

11, 2016, 10 a.m. - 4 p.m
.
Commemorating the 241st Anniversary of the Battle of Bunker Hill and the Centennial of the National Park Service. All events are FREE and open to the public.
In case of inclement weather, activities may move to the Bunker Hill Museum
His Majesty's Tenth Regiment of Foot
Bunker Hill Grounds
The Regulars are out! The Tenth will be demonstrating their military skill with musket firings and drills throughout the day. Try your own hand at the manual of arms and drill with them!
Firing times: 11:30 a.m., 1:30 p.m., and 2:30 p.m.
Musket Drills: 10:30 a.m., 12:30 p.m., and 2 p.m.
Public Art Project
Bunker Hill Museum, Lower Level
Connecting the story of the Battle of Bunker Hill with today's world, add a bit of you own creativity to the ongoing work!
10 a.m. - 4 p.m.
Decisive Day
Steps at the Front of Bunker Hill Lodge
Join a ranger for a 20 minute talk about what happened during the Battle of Bunker Hill.
Talk Times: 10 a.m., 11 a.m., Noon, 1 p.m., 2 p.m., 3 p.m., & 4 p.m.
Family Music Fun
Bunker Hill Grounds
Fireseed Arts will guide adults and kids alike in the use of creative instruments. Join together and have fun jamming!
Break the Code!
Bunker Hill Museum
Think you have what it takes to catch a spy? Decode a message and be the judge!
10 a.m. - 4 p.m.
The North Shore Stompers
Bunker Hill Grounds
Join a ten-piece marching band as they play traditional marches and patriotic tunes!
10 am - 4 pm
Be an Architect
Bunker Hill Museum, Main Level
Design your own monument or memorial and take it home with you!
10 a.m. - 4 p.m.
Letters from Bunker Hill
Bunker Hill Lodge
Colonial Soldier Peter Brown wrote to his mother after fighting in the battle of Bunker Hill. Read his letter and write your own battlefield letter to a relative or friend back home with a quill pen and ink!
10 a.m. - 4 p.m.