4 Whitin Machine Works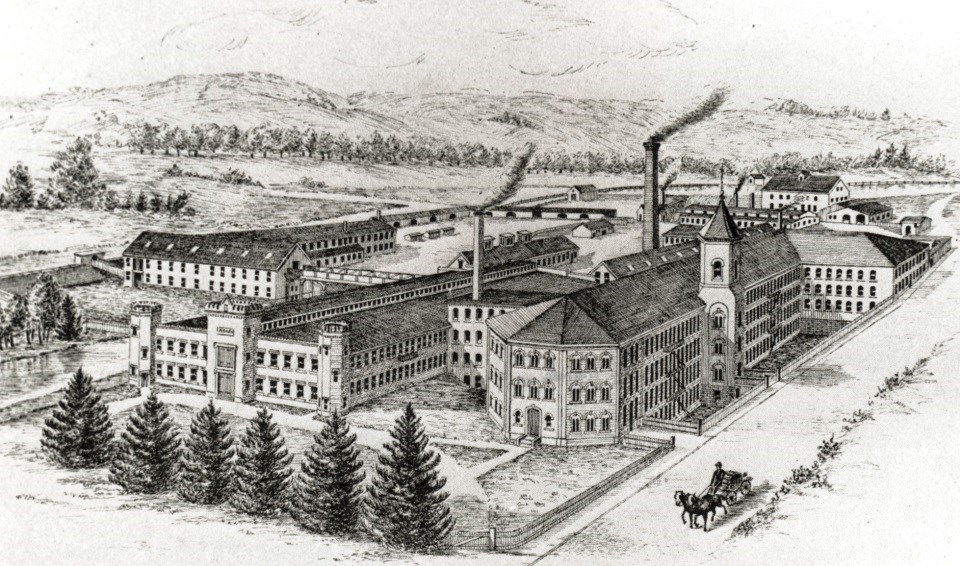 Continue along, and at the intersection, take a left and head up Main Street. What would become the largest textile machine manufactory in the world began with the building of Whitin Machine Works along the Mumford River in 1847. The original two-story mill, with its octagonal corner towers and crenelated battlements, accommodated 200 workers and was devoted exclusively to the production of textile machinery.
The mill was expanded decade by decade as the company came to dominate the manufacture of machinery for picking, carding, and spinning cotton and wool. Additions to the plant included machine shops, foundries, and specialized structures that ultimately gave it a floor space of 1 3/4 million feet. The 1923 addition facing Main Street features a ceremonial balcony and large clock face.
As you continue along North Main Street, you will pass the Whitin Community Center, which was built by the Whitins in 1922, and remains the social and recreational hub of the town. Further along you will see a series of row houses on your right. Built in 1864, these dwellings were so unpopular with employees that the Whitins did not build row houses again
until the early 1900s.
Turn right up High Street, where you will pass a number of duplexes built for Whitin employees between 1847 and 1864.
Last updated: September 4, 2019